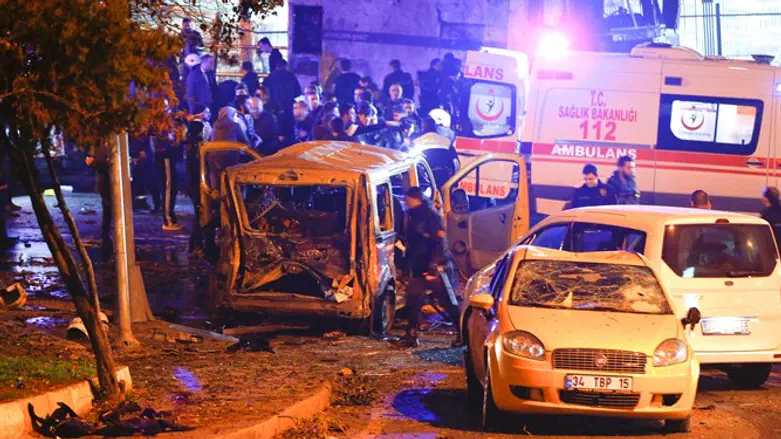 Scene of Istanbul terror attack
Reuters
Abdulgadir Masharipov, the terrorist who killed 39 people in Istanbul's Reina nightclub on New Year's Eve, told police he acted on direct orders from the Islamic State (ISIS) jihadist group in Syria, Reuters reported Wednesday.
Masharipov was captured by Turkish security forces on Monday evening in the Esenyurt district of Istanbul after a two-week manhunt.
According to Wednesday's report, Masharipov had initially been told to attack the area around the central Taksim square in Istanbul but later changed his target and chose the Reina nightclub instead.
He also reportedly told investigators his instructions came from Raqqa, Islamic State's de-facto capital in Syria. ISIS claimed responsibility for the attack two days after it took place.
"I came to Taksim on New Year's Eve but the security measures were intense. It wasn't possible to carry out the attack," Masharipov was quoted as saying.
"I was given instructions to search for a new target in the area. I toured the (Bosphorus) shore at around 10:00 p.m. in a cab," he added. "Reina looked suitable for the attack. There didn't seem to be many security measures."
Reuters was not immediately able to verify the report which initially was published by the Turkish newspaper Hurriyet.
Meanwhile, according to the news agency, on Wednesday Turkish police raided six locations in the western province of Bursa in connection with the nightclub attack and detained 27 suspected ISIS members.
The detainees included 15 women and Uzbek, Kyrgyz and Tajik nationals. Police also seized fake IDs and passports in the raids.
Among those killed in attack was 19-year-old Lian Zaher Nasser, an Israeli Arab from the city of Tira. Three other Israelis were wounded.