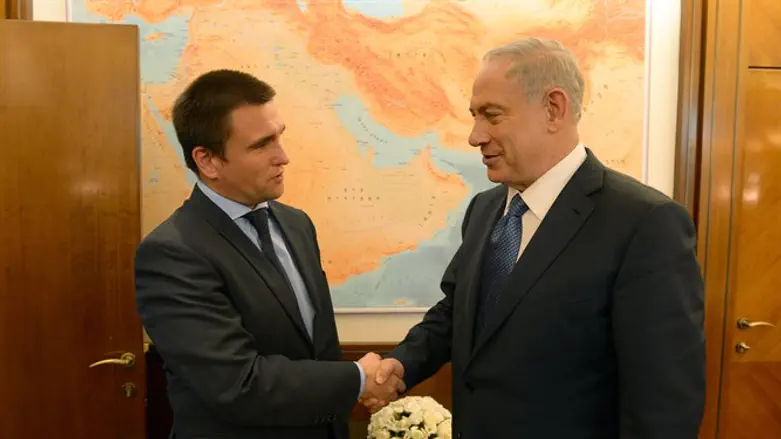 Ukraine's Pavlo Klimkin, Binyamin Netanyahu
Haim Zach/FLASH90
A Ukrainian MP announced that he intends to submit a bill in the Ukrainian parliament calling on the country to move its embassy in Israel to Jerusalem Tuesday.
MP Alexander Feldman, who is Jewish, announced his intention to submit the embassy bill on his Facebook page.
Israel summoned the Ukrainian ambassador and cancelled the planned visit of Ukrainian Prime Minister Volodymyr Groysman following Ukraine's vote in favor of an anti-Israel resolution at the UN Security Council last week.
Feldman wrote in his Facebook post that Ukraine's vote in favor of the resolution had upset him.
"Of course, the consequence of our vote has disappointed Israelis and seriously undermines what we have achieved," he wrote.
Feldman suggested that moving the Ukrainian embassy from Tel Aviv to Jerusalem would more than restore the relations between the Ukraine and Israel to what they were before the resolution was passed. He pledged to introduce a bill to move the embassy to Jerusalem in the Ukrainian parliament at the beginning of next year.
He added that he hopes that moving the embassy to Jerusalem would raise Israel-Ukraine relations to a "whole new, unprecedented level."