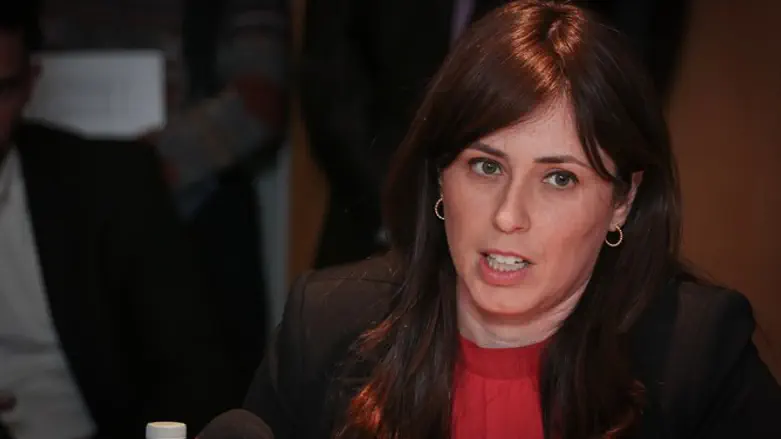 Tzipi Hotovely
Hadas Parush/Flash 90
Deputy Foreign Minister Tzipi Hotovely (Likud) told Arutz Sheva that she believes the recently-passed anti-Israel UN resolution will be rescinded by the incoming Trump administration.
"This resolution is an international attempt to impose on Israel a solution to a conflict which, at the moment, is unsolvable. Because this solution does not correspond to reality, in the end it will be cancelled by the Trump administration, with the help of Israel," Hotovely said.
She added, "Unfortunately, the international community simply encourages the Palestinians to run farther and farther away from the negotiating table such that, even insofar as their interests are concerned, this resolution advances nothing."
According to Hotovely, Israel is preparing for additional anti-Israel steps in the coming month. "In mid-January a very large summit is expected to take place in Paris, an initiative that the French are advancing. The PM expressed clearly that he will not take part in any international activity that seeks to impose a solution on Israel while the other side is completely uninterested in negotiations."
"We foresee more international developments - and I say that these developments won't change a thing in reality. The world is, at the moment, encouraging an impossible solution which further harms the fundamental right of the Nation of Israel to build in its Land."
Hotovely says that especially now the time has come to apply Israeli law to Judea and Samaria. "My position was always that we need to apply Israeli law to Judea and Samaria. I think 50 years is enough to wait to determine this."
"We need the words that we say publicly about our right to build to be backed by Israeli law. Is this an historic opportunity? Indeed, it is - and we need to know how to utilize it wisely. We need to build it together with the incoming American administration, in a way that we get down to the details of how exactly we will create a reality in which both the Palestinians are addressed and the needs of Israel are included."
Hotovely said that the UN Security Council resolution simply needs to be rejected. "How, exactly, are you supposed to honor a resolution which says that the Jewish majority is residing on occupied land? How is it possible to honor a resolution which completely ignores Jewish - and world - history? It is a despicable resolution, I think that there have been enough scandalous UN resolutions that were cancelled or didn't have any influence on reality."
I say that as far as we, as a State, are concerned, it is very important that we be clear about the fact that we are not anybody's protectorate. We will do what is good for us, for the Jewish Nation. This is the idea of a sovereign nation - for this the Maccabees struggled. For identity and for sovereignty. And it is also our struggle," she said.
She called on the gloating opposition to calm down. "They should reflect on why they have been in the opposition for so long. They need to understand that the Nation of Israel is sick and tired of their false visions. There are enough sensible people among them who repent for their sins and say 'we erred and the solution that we proposed was impossible.' We see that there is understanding that we are on a path that led us to international tragedies and to a place which is completely impossible. We have responsibility, we have been in power long enough to show our own way - and this is the responsibility that rests on our shoulders now."