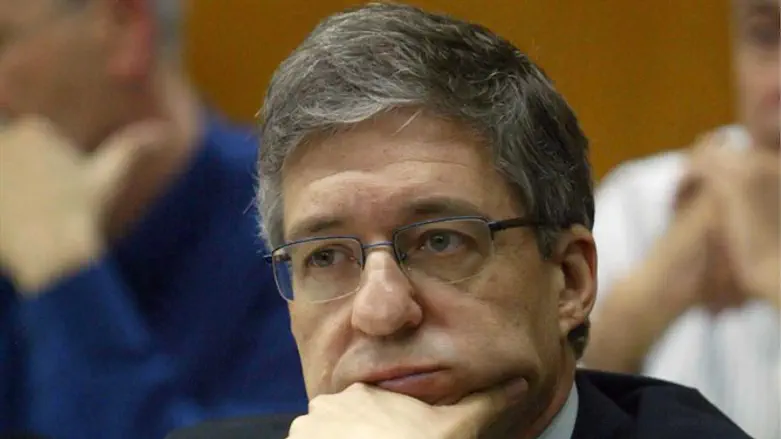 Yossi Beilin
Flash 90
The Menachem Begin Prize was awarded to the Birthright Foundation Sunday night. During the event, Arutz Sheva sat down with the CEO of Birthright, Gidi Mark, to discuss the organization which has brought half a million Jews to Israel over the past 16 years.
When Birthright began it was bringing 2,000 young Jews to Israel each year. The number of college age Jews it brought to Israel this past year was 45,000.
Speaking of the foundation's beginnings, Mark said that a survey taken in 1990 revealed that more than half of Jews in the US, 52%, intermarried, causing the American Jewish leadership to worry about the continuity of the Jewish people in America. "One of the things they talked about was strengthening the area of study. One of the ideas which caught my attention was the idea of then-Deupty Minister Yossi Beilin, who came up with the idea of giving a plane ticket to youth to come to Israel, meet Israeli youth, and build a common future [with Israel and the Jewish people]. Many people mobilized around this idea, including Charles Bronfman, Michael Steinhardt and Lynn Shusterman. They went to then-Prime Minister Binyamin Netayahu and he said that he wanted to be a partner to this idea."
According to Mark, Birthright is the subject which unites Beilin and Netanyahu despite their political differences, and they will attest to that. "Netanyahu recognized the enormous potential, and for the first time, Israel entered into a partnership with Jewish philanthropists to save the Jewish people. Since then all heads of government have seen it as the flagship project of the Israel -Diaspora relationship."
Mark addressed the content of the Birthright tours. "The tour is divided into past, present and future. We connect them to their roots through different narratives, and through different religious and nonreligious sites."
He called Birthright's success in dealing with the issue of assimilation a success "beyond our expectations. Studies have examined the groups who traveled every year and are registered and out, and the differences are enormou., even though we do not preach to be Jewish or not to be, or to be rightest or leftist. Birthright lowers the percentage of intermarriage by 46%. There is no other Jewish educational intervention in the world which equal this achievement, except for 12 years of education at a Jewish school."