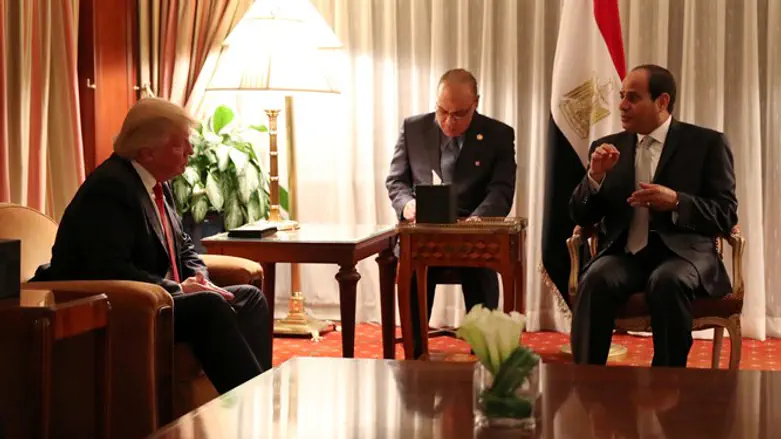 Trump and Sisi meet in New York
Reuters
Egyptian President Abdel Fattah al-Sisi on Thursday night spoke with U.S. President-Elect Donald Trump, Sisi's office said, according to Reuters.
The call came hours after the UN Security Council postponed indefinitely a vote on Egypt's draft resolution denouncing Israeli "settlements".
"During the call they discussed regional affairs and developments in the Middle East and in that context the draft resolution in front of the Security Council on Israeli settlement," said Sisi's spokesman, Alaa Yousef.
"The presidents agreed on the importance of affording the new U.S. administration the full chance to deal with all dimensions of the Palestinian case with a view of achieving a full and final settlement," he added.
Thursday's vote on the UN Security Council resolution was reportedly postponed after Sisi instructed his nation's delegation to push for a delay in the vote.
Trump had earlier called for the United States to veto the resolution, as it has traditionally done with similar proposals. American officials indicated that the Obama administration was planning to abstain from voting or even to vote yes.
Sisi recently praised Trump and said he expected greater engagement in the Middle East from his administration.
The Egyptian President has also been at the forefront of the effort to resume talks between Israel and the Palestinian Authority, having several months ago urged Israelis and PalestinianArabs to seize what he said was a "real opportunity" for peace and hailed his own country's peace deal with Israel.
The comments were welcomed by Prime Minister Binyamin Netanyahu, who stressed that "Israel is ready to participate with Egypt and other Arab states in advancing both the diplomatic process and stability in the region."
Palestinian Authority (PA) chairman welcomed Sisi's call as well, saying he welcomed the Egyptian president's efforts to achieve peace and establish a Palestinian state.