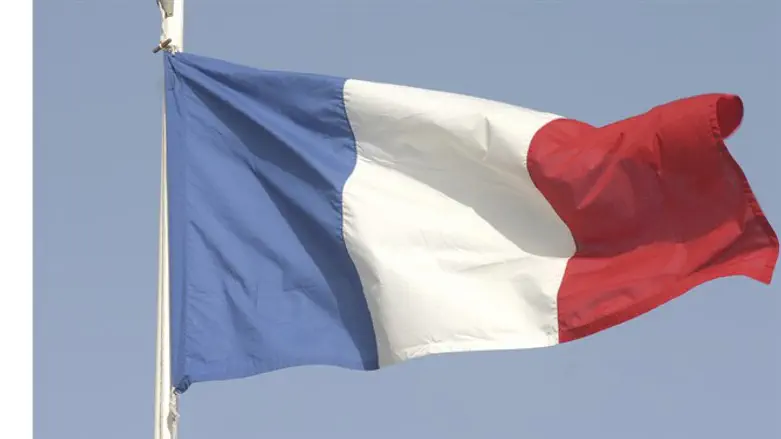 French flag
iStock
French officials announced on Thursday that around 70 countries will gather in France on January 15 for a conference to throw the international community's weight behind a two-state solution in the Israeli-Palestinian Arab conflict.
Neither Israeli nor Palestinian Arab representatives will be present at the meeting, but France intends to invite Palestinian Authority (PA) chairman Mahmud Abbas and Israeli Prime Minister Binyamin Netanyahu to Paris some time afterwards to be briefed on the outcome of the talks, the foreign ministry said, according to AFP.
The move is part of France's ongoing efforts to resume Israel-PA peace talks which have been at a standstill for more than two years.
France and held a preliminary conference in June, also not attended by Israeli or PA representatives, and was planning to hold a follow-up conference before the end of December with Netanyahu and Abbas involved.
However, Paris announced this week that the follow-up meeting was postponed until January.
French Foreign Minister Jean-Marc Ayrault, currently visiting the Lebanese capital Beirut, said on Thursday he hoped January's meeting would "relaunch" the peace process and "re-affirm the necessity of having two states".
Israel has long opposed the French initiative, explaining that the only way to reach a peace agreement is through direct talks with the PA, which the PA refuses, choosing instead to impose preconditions on talks.
Prime Minister Binyamin Netanyahu told French President Francois Hollande that he was willing to meet Abbas "directly, without preconditions".
Despite Netanyahu's rejection of the French initiative, a French official told AFP on Thursday, "We would like to invite him anyway."