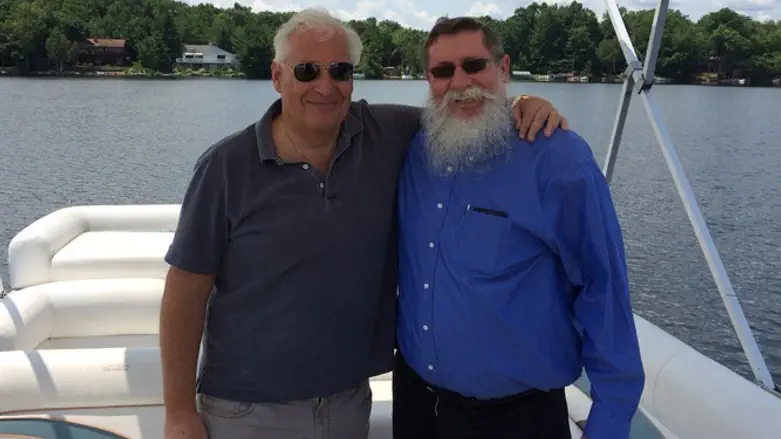 'A great friend of Israel'
Self
Education Minister Naftali Bennett welcomed the appointment of David Friedman as the next US ambassador to Israel by President-elect Donald Trump.
Friedman is known as a passionate supporter of Israel, including the Jewish communities of Judea and Samaria. He served as an adviser on Israel for the Trump campaign.
"I wish success for David Friedman, the US ambassador-elect to Israel. He is a great friend to Israel." Bennett wrote on Twitter.
Similarly, Deputy Foreign Minister Tzipi Hotovely welcomed the intention to appoint Friedman:
"The expressed intention to appoint Friedman is very welcome news for Israel. His positions reflect the desire to strengthen the standing of Israel's capital Jerusalem at this time and to underscore that the settlements have never been the true problem in the area."
Opposition MK and Yesh Atid chairman Yair Lapid also welcomed Friedman's appointment. "I look forward to working with the new US ambassador, a close friend of Israel, David Friedman, in the proper place for his office - our capital, Jerusalem." he wrote.
Yossi Dagan, the head of the Samaria Regional Council, said: "David Friedman is a friend and a true partner of Israel and the communities of Judea and Samaria. Trump's choice of Friedman is very important and crucial for Israel at this time. It proves that Trump intends to be genuinely committed to Israel just as was indicated during the campaign. This is a significant statement of intent this morning, and it is very encouraging."
On the other hand, the left-wing J-Street lobby wrote on its Facebook page that it is "vehemently opposed" to Friedman's appointment, calling the move "reckless" and saying that Friedman "lacks any diplomatic or policy credentials."
Trump, in explaining his appointment of Friedman, said: "[Friedman] has been a long-time friend and trusted advisor to me. His strong relationships in Israel will form the foundation of his diplomatic mission and be a tremendous asset to our country as we strengthen the ties with our allies and strive for peace in the Middle East."
"I am deeply honored and humbled by the confidence placed in me by President-elect Trump to represent the United States as its Ambassador to Israel," Friedman said upon news of his appointment.
"I intend to work tirelessly to strengthen the unbreakable bond between our two countries and advance the cause of peace within the region, and look forward to doing this from the U.S. embassy in Israel's eternal capital, Jerusalem," he added.
Friedman, a longtime Arutz Sheva op-ed contributor, spoke out in favor of Israel numerous times during the campaign and highlighted Trump's pro-Israel stance.
In May, Friedman toldArutz Sheva in an exclusive interview that Trump believes "that Israel should continue to build 'settlements.' This is land that Israel has held for almost 50 years. The population of Judea and Samaria is 400,000 people. You add in East Jerusalem you have almost a million people. These people aren't going anywhere and Israel's not going to make the same mistake that it made in connection with the evacuation of Gaza."
In another interview with Haaretz, Friedman said that as president, Trump could support Israel annexing parts of Judea and Samaria.
He also told Channel 10 News in an interview during the campaign that, as president, Trump would not force a peace agreement with the Palestinian Authority on Israel, due to the fact that he "has great confidence in the Israeli government and the Israeli people."
Arutz Sheva reported in September that Friedman had stated that the demographic threat to Israel is overblown.
"Right now the population within the 'green line' is 75% Jewish." Friedman said,adding that if the Jews in Jerusalem, Judea, and Samaria were included as well as the Arab population Jews would maintain their majority.
"If you take all of Israel, from the Jordan River to the Mediterranean Sea, and you include all of Judea and Samaria, Jews will make up at least 65% of the population," Friedman noted