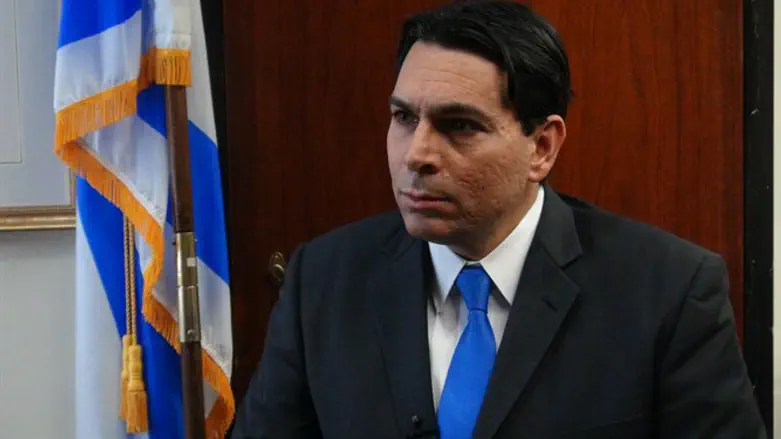 Danny Danon
Yoni Kempinski
The United Nations is set to vote next week to fund a "blacklist" of Israeli and international companies operating in Jerusalem, the Golan Heights and in Judea and Samaria.
The vote, which will take place in the Fifth Committee which oversees the UN's budget and administration, will authorize funding for the UN's Human Rights Council to compile the list. The intent to create the list, which is expected to be utilized by Boycott, Divestment and Sanctions (BDS) activists for anti-Israel activities, caused an international uproar when it was announced last March.
Israel's Ambassador to the United Nations, Danny Danon, announced on Friday that the Israeli Mission will publicly oppose the list and that he created a task-force to propose new ideas to combat the initiative.
Danon also stated his commitment to bring together international partners and pro-Israel organizations to oppose the list.
"We will not be silent in light of this shameful initiative," said Danon, adding, "The UN's intent to mark Jewish businesses and international companies with ties to Israel so that they can be boycotted reminds us of dark times in history. The Human Rights Council is already known as an anti-Semitic and anti-Israel entity, but it is unacceptable for the UN itself to support this despicable decision."
Upon announcing the intention to create the list last March, the Human Rights Council explained that they expected to update it annually.
When the announcement of the blacklist was made public, Prime Minister Binyamin Netanyahu condemned it and said that "the UNHRC has become an anti-Israeli circus with their attacks on the only democracy in the Middle East and their disregard for the gross violations in Iran, Syria and North Korea."
The prime minister called on "responsible governments" not to respect the UN resolution that discriminates against Israel.
The UN is known for its anti-Israel bias, and just last week passed a series of anti-Israel resolutions during its annual "International Day of Solidarity with the Palestinian People".
The body's outgoing chief, Ban Ki-moon, admitted that the UN is biased against Israel during a 2013 session with students participating in the Rishon Lezion College of Management's Model UN program.
(Arutz Sheva's North American desk is keeping you updated until the start of Shabbat in New York. The time posted automatically on all Arutz Sheva articles, however, is Israeli time.)