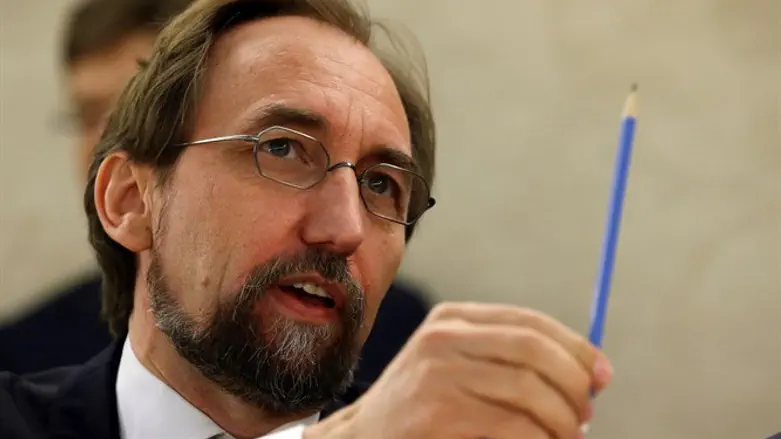 UN High Commissioner for Human Rights Zeid Ra'ad Al Hussein
Reuters
The UN human rights chief on Thursday slammed the "Regulation Law", which passed its first reading in the Knesset on Wednesday, saying it would clearly violate international law.
"I strongly urge lawmakers to reconsider their support for this bill, which if enacted, would have far-reaching consequences and would seriously damage the reputation of Israel around the world," said UN High Commissioner for Human Rights Zeid Ra'ad Al Hussein, according to AFP.
"In enabling the use of land privately-owned by Palestinians for Israeli settlements without the owners' consent, this legislation would violate international law," he added.
"Israel as the occupying power, must respect the private property of Palestinians, regardless of whether or not compensation is provided," said Al Hussein.
"All Israeli settlements -- whether outposts built without formal approval but often with the support of the Israeli authorities and which are currently illegal under Israeli law, or settlements approved by Israel -- are clearly and unequivocally illegal under international law and constitute one of the main obstacles to peace," he charged.
"They are also the principal cause of a wide range of human rights violations inside the occupied West Bank, including East Jerusalem."
The bill would allow the Israeli government to recognize construction built with government assistance and in good faith — meaning those outposts whose builders were not aware they were constructing on private land. If the original owners of the land are known, they would be eligible to receive financial compensation from the government.
The legislation, which still needs to pass two more readings at the Knesset in order to become law, has come under fire by the international community.
Earlier on Thursday, the European Union expressed its "strong opposition" to the Regulation Law.
"If it passes, this would be the first law adopted by the Knesset on the status of land in the West Bank, an occupied territory not under its jurisdiction. Senior members of the Israeli government have called this a step toward annexation of the West Bank," the EU statement read.
"Recalling that settlements are illegal under international law, constitute an obstacle to peace and threaten to make the two-state solution impossible, the European Union reiterates its strong opposition, in line with the position of the Middle East Quartet, to Israel's settlement policy and all actions taken in this context," it added.
The State Department blasted the law as well earlier this week, warning it "would be profoundly damaging to the prospects for a two-state solution".
On Monday, shortly after the bill passed its preliminary reading, the UN's envoy to the Middle East, Nickolay Mladenov, blasted the legislation, claiming it "has the objective of protecting illegal settlements built on private Palestinian property in the West Bank."
"It is a very worrying initiative. I encourage Israeli legislators to reconsider such a move that would have far-reaching legal consequences across the occupied West Bank," added the envoy.