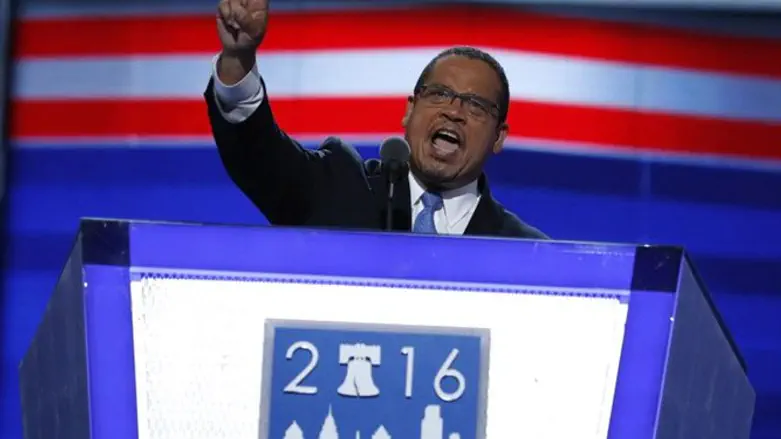 Keith Ellison
Reuters
A leading Democratic donor issued a stinging condemnation of Minnesota Congressman Keith Ellison, warning that if the controversial far-left candidate became chairman of the Democratic National Committee, relations with the Jewish community would be seriously damaged.
Israeli-American media mogul and billionaire Haim Saban blasted Ellison, calling him an anti-Semite and anti-Israel individual."
"If you go back to his positions, his statements, his speeches, the way's he voted, he's clearly an anti-Semite and anti-Israel individual," Saban said during the Saban Forum on Friday, hosted by the Brookings Institute.
Since announcing his candidacy for the DNC chair, Ellison has come under fire from Jewish groups, like the Republican Jewish Coalition and the Zionist Organization of America, for his sharp opposition to the Israeli government and past support for Nation of Islam leader, Louis Farrakhan.
Prior to his election to the House of Representatives, Ellison had defended Farrakhan's controversial comments, which often strayed into black supremacy, anti-Semitism, homophobia, and other forms of bigotry.
In 2009, Ellison endorsed the United Nation's Goldstone report, which accused Israel of war crimes during the 2008-2009 Gaza conflict. Five years later, Ellison was one of only eight House members to oppose aid for the Iron Dome missile protection system Israel developed in response to Hamas rocket attacks.
Last week a bombshell revelation of comments by Ellison at a 2010 gathering – comments Ellison made as a sitting congressman – led to an explicit condemnation by the Anti-Defamation League.
In an audio recording publicized by the Investigative Project on Terrorism, Ellison can be heard accusing Israel, through elements of the American Jewish community, of dominating the United States.
"The United States foreign policy in the Middle East is governed by what is good or bad through a country of 7 million people," Ellison is heard saying in the recording. "A region of 350 million all turns on a country of 7 million. Does that make sense? Is that logic? Right? When the Americans who trace their roots back to those 350 million get involved, everything changes. Can I say that again?"
In response, ADL head Jonathan Greeblatt slammed Ellison, accusing him of peddling in "age-old stereotypes".
"Rep. Ellison's remarks are both deeply disturbing and disqualifying. His words imply that US foreign policy is based on religiously or national origin-based special interests rather than simply on America's best interests. Additionally, whether intentional or not, his words raise the specter of age-old stereotypes about Jewish control of our government, a poisonous myth that may persist in parts of the world where intolerance thrives, but that has no place in open societies like the US."
Ellison denied the charges, claiming the recording was "taken out of context," though a complete transcript of the meeting has been released. Since he entered politics, Ellison has worked to portray himself as reformed, dropping his public support for the Nation of Islam and their anti-Semitic beliefs.
On Friday, Saban acknowledged Ellison's change in rhetoric, but argued his actions and the recently uncovered 2010 address reveal he remains "an anti-Semite."
"If you listen to Keith Ellison today, and you see his statements he's more of a Zionist than Herzl, and Ben Gurion and Begin combined," Saban said during the gala dinner for the event, which is organized by the Brookings Institution. "It's amazing, it's a beautiful thing. If you go back to his positions, his statements, his speeches, the way's he voted, he's clearly an anti-Semite and anti-Israel individual."
"Words matter, actions matter more," Saban continued. "Keith Ellison would be a disaster for the relationship between the Jewish community and the Democratic Party. Now, I've said what I've had to say."