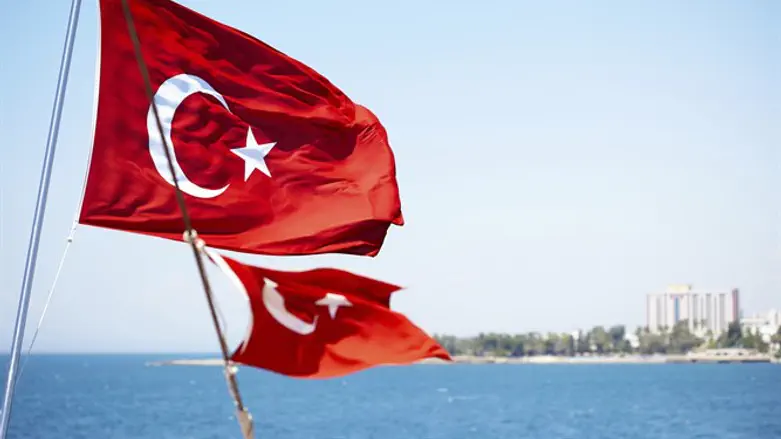 Turkish flag
Thinkstock
Israel's new ambassador to Turkey, Eitan Naeh, arrived in the capital Ankara on Thursday, an Israeli embassy official said.
Naeh arrived in the morning, the official, who did not wish to be named, told AFP.
He is due to present his letter of credence to Turkish President Recep Tayyip Erdogan in the next few days.
Naeh, who had been serving as deputy head of mission at the Israeli embassy in London, was chosen as ambassador earlier this month by a government committee.
He previously worked at the embassy in Ankara from 1993 to 1997.
Naeh is Israel's first envoy to Turkey since ties between the two countries were severed following the 2010 Mavi Marmara incident.
The Mavi Marmara incident occurred when IDF soldiers boarded the ship after the Islamists on board, who claimed they were carrying humanitarian aid for Gaza, refused to reverse course and dock at the Ashdod Port.
As soon as they boarded the ship, the soldiers were attacked by the Islamists with clubs and knives, forcing the troops to open fire and killing 10 of those on board.
Upon inspection it was discovered that there was no humanitarian aid whatsoever aboard the Marmara.
After the raid Turkey angrily cut off ties with Israel, but the two announced a reconciliation agreement in June, as part of which Israel paid $20 million in compensation to Turkey for the Marmara incident.
Turkey last week sent firefighting planes to Israel to help it fight the wildfires that broke out throughout the country.
Thanking Ankara for its support and the warm welcome, Naeh told reporters at the airport on Thursday, "We have a history of helping each other in times of need."
In a video shared by the embassy's official Facebook account, Naeh said, "I am very happy to be back in Turkey as ambassador. We have a lot of work to do... I am looking forward to starting the work here, officially."
Turkey this month appointed Prime Minister Binali Yildirim's foreign affairs advisor Kemal Okem as its ambassador to Israel.
Despite the reconciliation deal, Erdogan refused to tone down his anti-Israel rhetoric in an interview with Israeli journalist Ilana Dayan last week, even as he called for a "new page" in Israel-Turkey relations.
In the interview, Erdogan refused to take back his past verbal attacks against Israel, including a statement that Israel's attacks against terrorist targets in Gaza during Operation Protective Edge were more barbaric than Nazi leader Adolf Hitler's actions.
Nevertheless, Erdogan and Israeli President Reuven Rivlin held a phone call this week, during which Rivlin thanked Erdogan for his country's firefighting assistance.