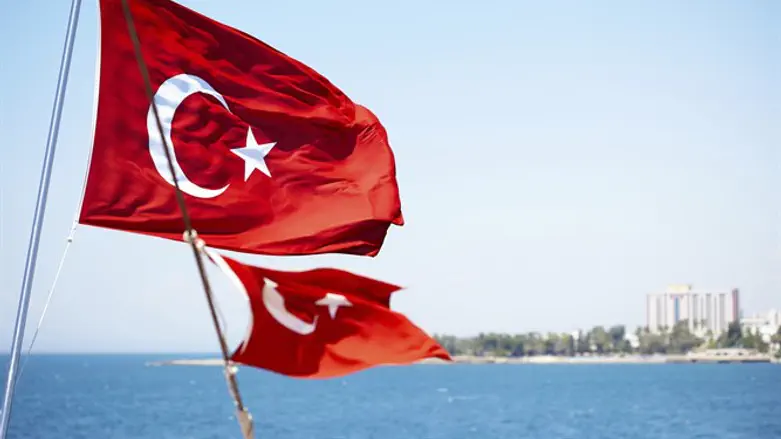 Turkish flag
Thinkstock
Turkey on Monday blasted the Israeli "Muezzin Law" as "unacceptable" and an "insult".
The bill, which was recently approved by the Ministerial Committee for Legislation, would prevent mosques from using loudspeakers to broadcast the Muslim call to prayer from mosques across Israel, disturbing the sleep of people who live nearby.
Turkish Deputy Prime Minister Numan Kurtulmus said that for centuries the Islamic call to prayer, church bells and Jewish prayers had mixed together in multi-faith Jerusalem.
"This is something on which there can be no compromise," Kurtulmus, who is chief government spokesman, said after a cabinet meeting, according to the AFP news agency. "It's absolutely unacceptable.
"It's an insult to the culture, past and history of Jerusalem. It makes no sense and is contrary to freedom of belief," he charged.
The bill appeared to be on hold after Health Minister Ya'akov Litzman (United Torah Judaism) appealed it on the grounds that it may be used against the siren that sounds in many Israeli cities on Friday afternoons to announce the start of the Sabbath.
The legislation could now be revived after efforts were made to meet the concerns of Litzman and other haredi MKs.
Kurtulmus's comments follow criticism that was sounded against the law in the Muslim world.
The Palestinian Authority leadership condemned the proposed law this past weekend, saying that passing it would constitute a declaration of war by Israel.
Jordan has also expressed its disapproval of the legislation, saying that Israel has no authority to instruct mosques in Jerusalem what to do, particularly the Al-Aqsa Mosque which is under the authority of the Jordanian Waqf.
The draft bill has also sparked anger among Arab MKs, with MK Ahmed Tibi (Joint List) last week calling on the Arab public to disobey the law should it pass.
"I call on all my people to disobey this law until it reaches the third reading and is approved. We are also disturbed by the Friday and Saturday sirens (announcing the Shabbat), we too cannot travel on Yom Kippur and festivals because of you, but we don't speak about it, we don't protest," he said.