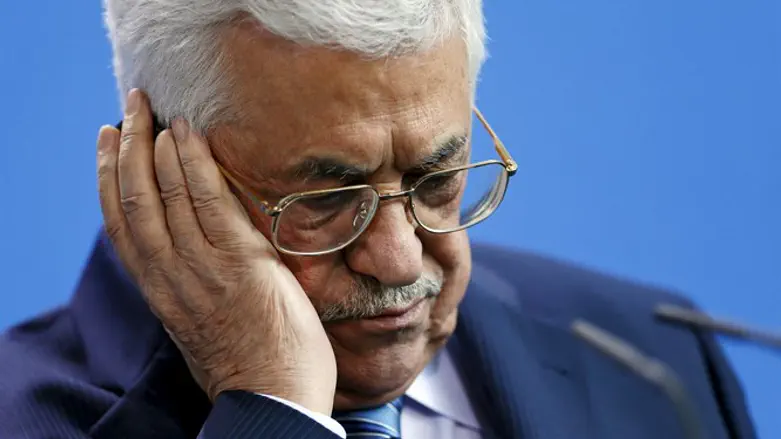 Mahmoud Abbas
Reuters
An Arab League delegation met with Palestinian Authority Chairman Mahmoud Abbas with the goal of pressuring him to appoint a successor, reports MEMRI.
According to the reports, the delegation included Arab League General Secretary Ahmed Aboul-Gheit, as well as his two predecessors, Amr Moussa and Nabil Elaraby. The three arrived in Ramallah supposedly to participate in the dedication ceremony of the new Arafat Museum but in reality with the intention of speaking to Abbas. They also wanted to aid Mohammad Dahlan's return to politics and to help stop the chase after Dahlan and his men.
Dahlan was kicked out of Fatah in 2011 and has been on the run ever since. He and Abbas are avowed enemies, but Dahlan is considered popular among Palestinian Arabs.
According to the Egyptian daily Al-Mitzrion, Aboul-Gheit wanted to suggest three candidates for Abbas to consider as possible successors: Nasser Al-Qadewa, a nephew of Arafat and previously the Foreign Minister; Marwan Barghouti, a senior Fatah official who is serving a prison sentence in Israel for committing terror attacks against Israeli citizens; and Mohammed Dahlan, former head of security in Gaza.
Al-Mitzrion also writes that the pressure Arab countries are putting on Abbas comes as a result of the concern he may suddenly disappear from politics. With no clear successor, his disappearance would cause the Palestinian Authority to fold to Hamas nearly entirely, causing severe international repercussions.
Abbas, however, does not seem disturbed by these speculations and refuses to allow external pressures of Arab countries to influence his decisions regarding the PA, although threatened by sanctions, Arab countries' intervention in the PA's activities, and their delegitimization of his leadership.