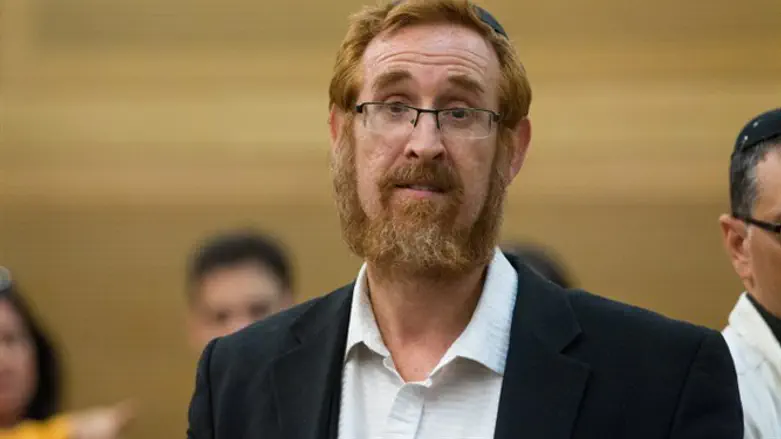 Yehuda Glick
Miriam Alster/Flash90
When MK Yehuda Glick (Likud) gets excited, he speaks quickly and his breathing becomes heavy - because of the assassination attempt which nearly killed him two years ago.
The gunman, who fired four bullets at Glick from the point-blank distance of just 30 centimeters (less than a foot),was certain that he had finished the job and drove off. "Four Jews were assassinated in the month of Mar Heshvan (bitter Heshvan)." Glick said. "Rehavam Ze'evi, Yitzhak Rabin, Rabbi Kahane, and myself. I was the only one to survive."
Glick is an unusual MK. He is the head of the Knesset Lobby for Strengthening the Jewish Connection to the Temple Mount, and he is also the head of the Lobby to Strengthen the Relations between Jews and Muslims.
Glick wears a blue and white bracelet with the words "The Temple Mount is in our hands," which was distributed on Monday at a conference held by the Doresh Tzion organization on the ascension of Jews to the Temple Mount. The conference also marked the second anniversary of the assassination attempt on Glick.
"I think God kept me alive because he thought that my mission was not over." Glick said. "Over the last two years I have had the urgency of direction. Now I promote the issue [of the Temple Mount] not as an individual,but as a representative of the people of Israel."
Nearly seven years have passed since I had an interview with Glick in a Jerusalem Cafe. He was then a civilian working on the cause of the Temple Mount. The thought that he would one fay become a Member of the Knesset organizing conferences to encourage Jews to ascend the Temple Mount seemed ridiculous at the time. It turns out that I was not the only one to think that way.
"As far as the police are concerned we have always been a nuisance and 'extremists.'" Glick says. "We asked them to do something about the Mourabitoun and Mourabitat (Arab extremist groups which harass and attack Jews on the Temple Mount) and they would not listen. For years I would go to the Public Security Minister and tell him that they are tampling and spitting on us, and he would tell me "You are guilty and you will cause World War 3." Yesterday the Public Security Minister came to me at the conference and said "You are right. There is discrimination against Jews on the Temple Mount."
Glick added that that steps have already been taken to improve the situation, with the banning of the Islamic Movement in Israel and the banning of the Mourabitoun and Mourabitat groups from the Temple Mount.