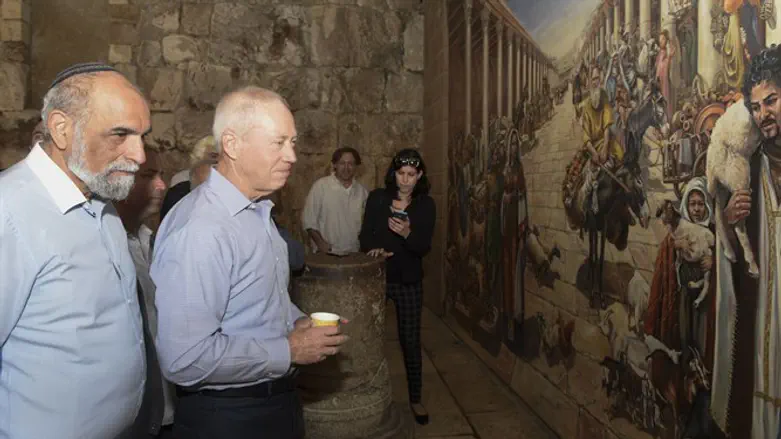 'Stones that survived 2,000 years tell our story'
צילום: אבי חיון
Housing Minister Yoav Galant, arrived Wednesday morning for a tour of the Jewish Quarter of the Old City of Jerusalem. He was impressed by the recent discovery of a Byzantine era arch in the Jewish Quarter between the early 18th century Hurva Synagogue and the Roman era Cardo. The Hurva, meaning ruin, is called by that name because Muslims destroyed it in 1721, it was rebuilt in 1864, deliberately blown up by Jordan in 1948 and rebuilt in 2010 by Israel.
Galant also inaugurated a new mosaic at the 'Jerusalem of Mosaics' project which opened this past July and saw artifacts which were uncovered recently beneath the Tiferet Yisrael Synagogue.
During the tour, Galant said that "Restoring the (Jewish) Quarter, which was taken from us (and destroyed) by our enemies, is a historic task."
"Each new discovery presents us with a new archaeological challenge. These stones, which have survived for 2,000 years, and which our ancestors walked upon and felt their touch, testify to the deep and unbreakable ties between the Jewish people and this place.
"We must continue to build Synagogues and public institutions in the Jewish Quarter and fulfill the building of Zion and Jerusalem."