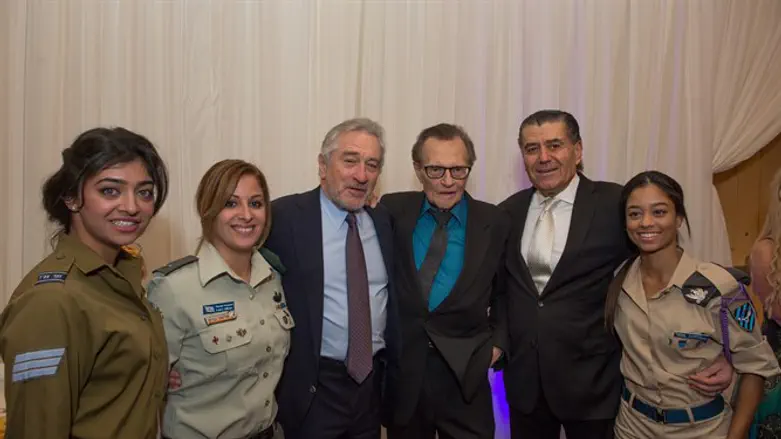 Robert De Niro, Larry King, and Haim Saban with soldiers
AJR Photography
American Friends of the IDF (FIDF) held a star-studded event in Los Angeles' Beverly Hilton hotel Thursday night to honor IDF soldiers. Some 1,200 arrived from the US and Israel.
The evening was hosted by Israeli-American businessman Haim Saban and his wife Cheryl, who successfully drafted a list of Hollywood stars and American businesspeople to come and show support for the soldiers.
Those in attendance included Oscar-winning movie star Robert De Niro and media personality Larry King, the movie star, bodybuilder and former California governor Arnold Schwarzenegger, actress Joanna Krupa, and actor Gerard Butler.
The event featured 17 soldiers representing a wide spectrum of units within the IDF, and included "lone soldiers" originally from the US who had decided to move to Israel by themselves and join the IDF.
This year, a record 38 million dollars was raised for IDF soldiers.
Haim Saban, the largest private donor to IDF soldiers and Chairman of the annual lavish gala event, said: "This year, we mark a decade since Cheryl and I stand at the head of this exciting event, and we are thankful for the loads of support the event receives every year. We are happy to see that the main mission of FIDF - to provide benefits and educational opportunities for IDF soldiers - continues to harness the LA community."
Rabbi Yechiel Eckstein, founder and president of the International Fellowship of Christians and Jews, said of the event: "The obligation of IDF soldiers to defend Israel and the lives of its citizens is inspirational and deserves recognition. We need to stand beside these brave soldiers and support them in whatever way possible, so that they know how much we care about their wellbeing and future."
One of the powerful moments of the evening was during the speech of border policewoman Allison Barsan, who moved to Israel from France by herself. During her service, she courageously neutralized a terrorist at the Tapuach Junction in Samaria, thereby saving the life of her friend. As a surprise, Allison's mother, whom Allison had not seen for almost year, was flown out from France, and appeared onstage.
Additional soldiers who were at the event and shared their stories included Sergeant Ohad ben Yishai, who was critically injured in Operation Protective Edge, and reserve soldier Omri Michaeli, who was also wounded in Operation Protective Edge and had been brought to the hospital wrapped in an Israeli flag.