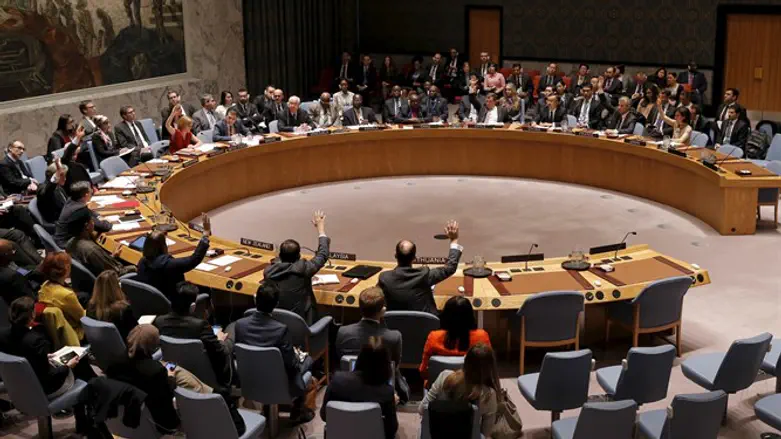 Illustration
Reuters
An Israeli non-governmental organization has partnered up with the PLO delegation at the United Nations for a special anti-Israel meeting at the UN Security Council scheduled for this Friday.
The PLO delegation at the UN organized the meeting, which they say will focus on Israeli "settlements" in Judea, Samaria, and the eastern portion of Israel's capital city, Jerusalem. The meeting is set to be held under the headline "Israeli settlements as an obstacle to peace and the two-state solution."
To avoid billing as an explicitly anti-Israel event, however, the informal Arria-formula style meeting is slated to include representatives from Israeli organizations.
Two far-left NGOs - B'Tselem and Peace Now – were both invited to the hearing. While Peace Now responded Thursday morning that it did not intend to send representatives, B'Tselem is expected to participate in Friday's UNSC meeting,
Participants at the event will discuss what the PLO delegation has termed "land confiscations". Organizers of the meeting are expected to demand a binding resolution by the United Nations Security Council against Israel regarding the presence of Jews in Jerusalem, Judea, and Samaria.
Five of the UNSC's 10 temporary member states convened the meeting, including Egypt, Angola, Malaysia, Venezuela, and Senegal.
Israel's Ambassador to the UN slammed B'Tselem for its anticipated participation in the event, calling it a fig leaf for "anti-Israel activites at the UN."
"During this time of year of reflection and prayer for unity amongst our people, it is sad and disappointing that Israeli organizations are providing moral cover for anti-Israel activities at the UN," Danon said.
Danon also criticized the PLO delegation, claiming the event was an attempt by the Palestinian Authority to force a final status to the Israeli-Arab dispute without the direct negotiations called for by both Israel and the United States.
"The Palestinians continue to search for any way possible to avoid direct negotiations with Israel and instead wage diplomatic terrorism against us."