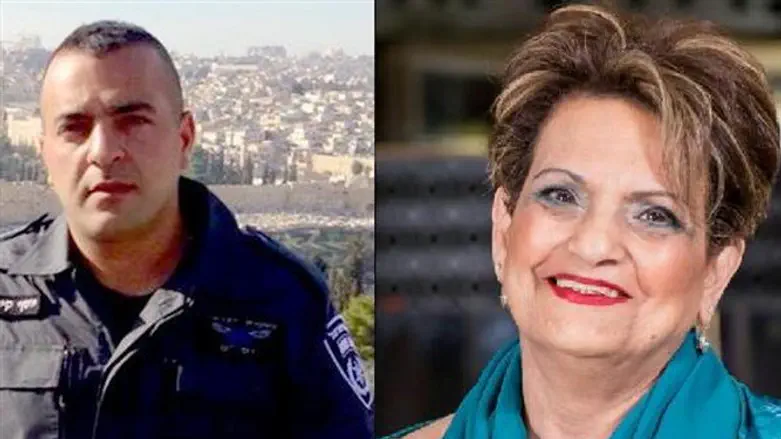 Victims of shooting attack Kirma and Malichi
Courtesy of Israel Police, Malichi family
The victims of a deadly shooting attack near a light-rail train station in Ammunition Hill in Jerusalem on Sunday have been identified as Levana Malichi and Yosef Kirma.
Malichi, a resident of Jerusalem in her early 60s, was gunned down by a 39-year old Arab terrorist from the eastern Jerusalem neighborhood of Silwan during the attack Sunday morning.
An employee in the Knesset building for more than 30 years, Malichi retired in 2010. She leaves behind three children and six grandchildren.
Her funeral is scheduled for 7:30 Sunday evening at the Har HaMenuchot cemetery in the capital.
The second victim, 29-year old Sergeant Major Yosef Kirma, was an officer in the Yassam, or Special Patrol Unit of the Israeli Police.
Kirma had responded to the attack, but was wounded in the crossfire while pursuing the terrorist. He was evacuated to Hadassah Hospital on Mount Scopus, where he was listed in critical condition.
Doctors were unable to stabilize his condition and were forced to declare his death.
Kirma had served the past four years with the Israeli Police. He is survived by his wife, parents, and two brothers.
Last December Kirma was responsible for foiling a terror attack at a kindergarten in Jerusalem. While on patrol, Kirma and his partner spotted a suspicious individual outside of the kindergarten. When Kirma searched the man, he discovered a knife. The would-be assailant later admitted that he had intended to carry out a stabbing attack.
He will be buried Sunday in the police section of the Har Herzl Military Cemetery at 5:30.