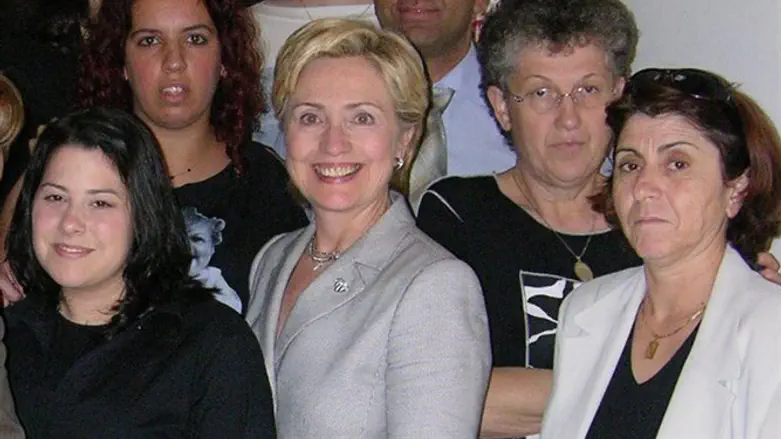 Clinton with terror families
Yossi Tzur
Yossi Tzur, who lost his son, Assaf, in a terror bus bombing, has unpleasant memories from his meeting with Hillary Clinton. He shared them with his Facebook friends Tuesday morning.
"On 2003 My son, Assaf, almost 17-years old, was killed in a terror attack in Haifa, Israel, attack orchestrated by Hamas," he wrote.
"On 2004, I went with a delegation of families of terror victims to the US, we talked to decision makers, in Congress, Senate and others, the time was when the debate over Israel right for a security fence was at its peak. Israel was taken to the international court in the Hague over the fence. Talking about the need for a fence was very important to us.
"We were welcomed with warmth, with empathy, all heard us and gave us their attention, well, almost everybody."
Tzur went on to describe the delegation's meeting with Rudy Giuliani. "You could feel the warmth of the man, his humanity, his care," he wrote. "You could see tears in his eyes when he told the stories. The meeting was scheduled for an hour, it took almost two hours and then he stood with us patiently taking photos with each and every one."
From New York, the delegation went to Washington for a series of meetings, one of them was in the Senate with NY Senator Hilary Clinton. Tzur recalled that "we arrived at her office in the Senate and were shown into a small meeting room, it could hardly fit all of us, it was dark, crowded, it didn't even had water on the table. So we waited.
"Time went by, 15 minutes, 30, an hour. Her aides were embarrassed saying she is coming any minute now. After an hour and a half Clinton arrived.
"She looked as us seeing the group in the room, we could see she is not really there with us, we felt she was impatient and just looking to finish it and go. We felt really uncomfortable... Even before we could speak she said, you probably want a photo, come let's go out, leading us to the stairs. There she asked us to stand on the stairs and one of her aides took the photo. We still wanted to talk to her, people came ready to tell her their story, she didn't intend to hear, it looked she didn't want to hear. With inhuman coldness she went out amongst us all and disappeared in one of the corridors leaving us shocked and disappointed."
Tzur wound up by saying: "I am not an American citizen and will not vote in the elections, however I had few times the opportunity in Israeli elections to choose the lesser of two evils, so from my small personal experience I will take Giuliani's advice and support Trump. Personally I am afraid Clinton will cause Israel to miss Obama and I don't want that either."
Tzur is a leading member of the Almagor terror victims' group.
"Cold" Hillary with terror families.
צילום:
Tzur with Giuliani
Yossi Tzur