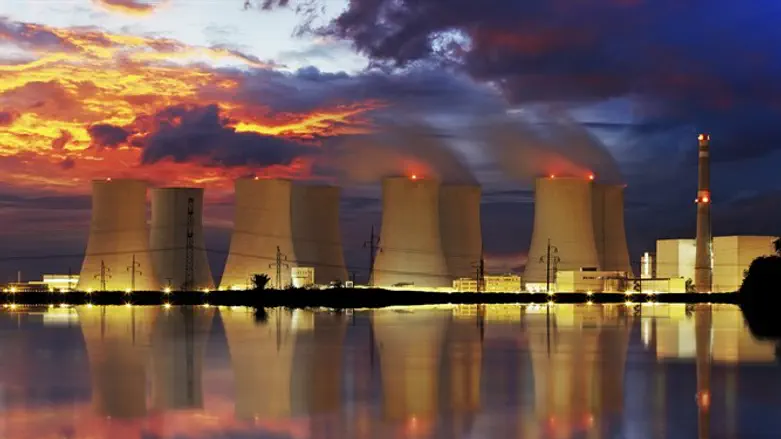 Nuclear power plant (illustration)
Thinkstock
A senior diplomat confirmed on Wednesday that Arab member states in the International Atomic Energy Agency (IAEA), the UN's nuclear watchdog, have shelved their annual bid to pressure Israel into accepting international scrutiny of its atomic activities.
In previous years, the Arab states would annually attempt to pass a resolution at the IAEA meeting that would force Israel to join the Treaty on the Non-Proliferation of Nuclear Weapons (NPT).
Arab member states have accused Western countries of double standards on the nuclear issue by not putting Israel's activities under IAEA supervision, while forcing Iran to honor its obligations under the NPT.
The resolution has been rejected every time so far. Two years ago, for example, a similar measure by 18 Arab member states was rejected by 58 votes to 45, with 27 countries abstaining.
The measure was similarly defeated in 2013 by 51 votes against and 43 in favor with 32 abstentions.
This year, however, Arab states have decided to shift their diplomatic strategy after the previous failures, a senior Arab diplomat told Reuters, confirming a report in Haaretz last month.
The new strategy by Arab states would be to decide to stop striving for resolutions that merely call on, but do not order, Israel to implement nuclear control regimes such as the Non-Proliferation Treaty (NPT) or an IAEA Comprehensive Safeguards Agreement (CSA), Arab League Ambassador Wael Al Assad said.
Israel has never confirmed or denied having nuclear weapons under a policy of ambiguity.
"Now Arabs are saying enough is enough. We need to deal with this in a more results-oriented way. We are not interested in resolutions that have no implementation mechanism," Al Assad told Reuters in Vienna, the headquarters of the IAEA.
"We need to seek other means and policies, we are now in a process of revision (until next March)," he added, though he would not go into details about what changes were being considered.
Some diplomats said the Arab decision not to mount their annual push for an IAEA resolution represented a victory for Israel. When asked about this, Al Assad replied, "We are not concerned with short-sighted victories for five minutes."