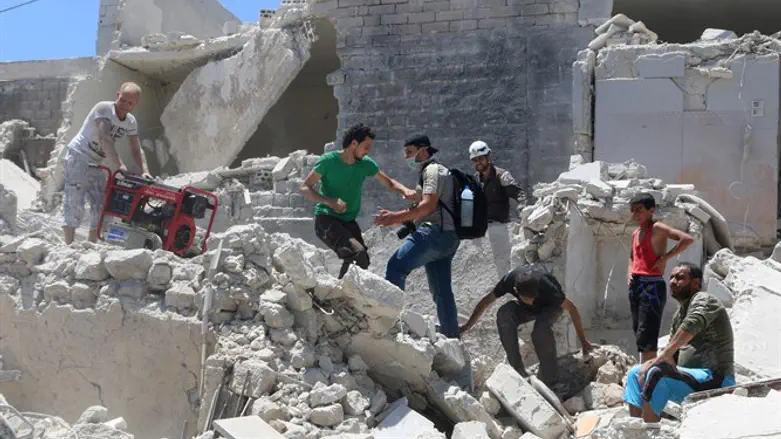 Site of regime bombing in Aleppo
Reuters
Dozens of people had to be treated for breathing problems in the Syrian battlefront city of Aleppo after regime helicopters dropped barrel bombs on a rebel-held district Tuesday, a monitor said, according to AFP.
In addition, rebel gunfire killed five people in Azamiyeh, a government-controlled area in Aleppo, the Syrian Observatory for Human Rights said.
The bombs that left more than 70 people choking and in need of treatment were dropped from helicopters on the Sukkari neighborhood, the Britain-based monitor said, adding most were civilians.
The opposition Aleppo Media Centre charged on its Twitter account that Sukkari was the target of a chlorine attack.
Observatory head Rami Abdel Rahman was unable to confirm the claim but said that no one was killed in the strikes.
A Sukkari resident told AFP a "very strong smell" filled the neighborhood after it was hit by a barrel bomb and that he and others had difficulty breathing.
Chemical weapons being used during the Syrian civil war have been a cause for concern, as both sides in the war have traded accusations of attacks against civilians and use of unconventional weapons including chlorine and mustard gas.
A UN-led investigation recently blamed the Syrian regime for at least two chemical attacks, one in 2014 and another in 2015.
Previous reports from the Organization for the Prohibition of Chemical Weapons (OPCW) had concluded that toxic gases have been used as weapons in Syria's five-year war, but stopped short of identifying the perpetrators.
But the latest panel of inquiry, known as the Joint Investigative Mechanism (JIM), for the first time pointed the finger of blame at the Assad regime for chemical weapons use after years of denial from Damascus.
Syria's ally Russia later said it had "very serious questions" about the report while the Syrian envoy to the world body, Bashar Jaafari, rejected the findings.
The government in Damascus argues that claims that it used chemical weapons are only meant to "serve political agendas".
Chlorine use as a weapon is banned under the Chemical Weapons Convention, which Syria joined in 2013, under pressure from Russia.