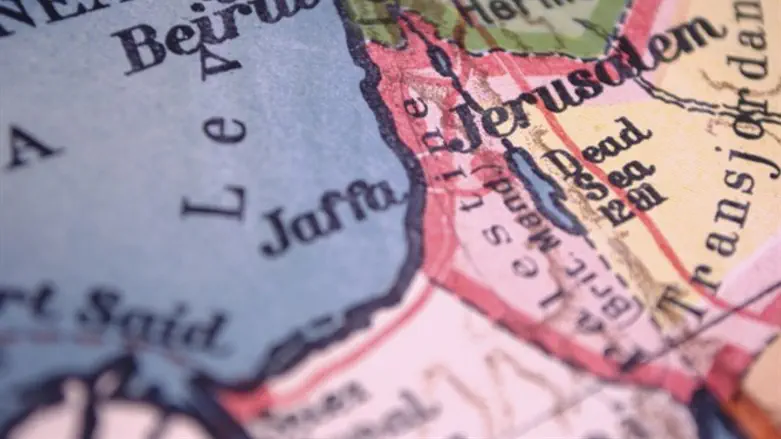 Old Mideast map
Thinkstock
Jerusalem is no longer the capital of Israel, according to atlases being distributed to primary and secondary schools of the Czech Republic.
The Czech education ministry announced the intended change on August 23, after receiving complaints from the Palestinian Authority's embassy in Prague, led by ambassador Khaled Alattrash.
"The ministry will resolutely demand a change of the given data," the Czech education ministry wrote in response to the complaint.
The atlas publisher, the Shocart company, will have to rewrite Tel Aviv as the capital of Israel, or lose its certificate as an officially recognized school book.
"The data in the atlas will be corrected as of the New Year," the Education Ministry's spokeswoman Klara Bila told Mlada fronta Dnes (MfD). Shocart apologized for the "mistake."
The Czech foreign ministry made its position clear when then news broke.
"The Czech Republic does not consider east Jerusalem a part of the State of Israel," ministry spokeswoman Irena Valentova said, hastily adding that the Shocart atlas does not express Prague's official position.
"The EU member countries, including the Czech Republic, view Jerusalem as the future capital of both states, i.e. the State of Israel and the future State of Palestine," Valentova added. As of today, there is no state of Palestine, and any attempts to organize such a state have been torpedoed by Palestinian Authority leaders, who enjoy billions of dollars annually in international aid.
Foreign Ministry representative Emmanuel Nahshon responded to the announcement: "The Foreign Ministry is working energetically with the relevant parties in the Czech government in order to cancel the perverse teaching. There is no limit to Palestinian incitement, which doesn't satisfy itself with poisoning the minds of young Palestinians, but also seeks to sow lies among the youth of the Czech Republic."
In 2012, the Czech Republic was the only EU country to vote against the acceptance of the Palestinian Authority as a UN observer, and is considered a close friend of Israel in Europe. In May, The Czech prime minister met with Prime Minister Binyamin Netanyahu in Jerusalem.