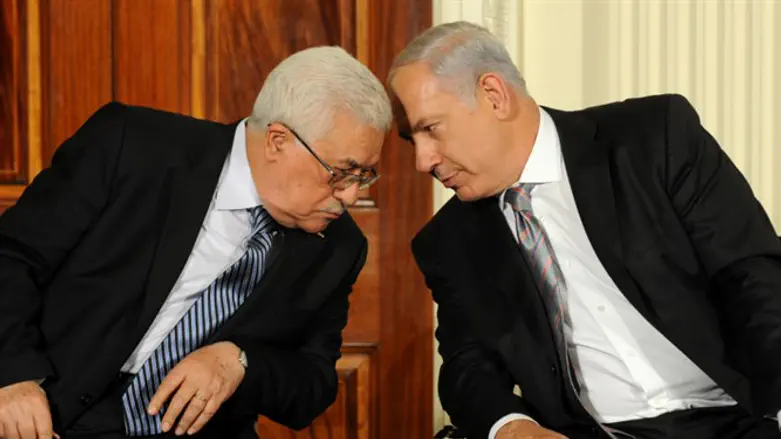 Abbas and Netanyahu (archive)
Flash 90
Israel has reportedly agreed to a three-way peace summit with the United States and the Palestinian Authority (PA), but the PA is placing preconditions on the initiative, Channel 10 News reported on Sunday.
The Channel 10 report was based on a report in the Jordanian newspaper Al-Rad.
The Jordanian newspaper, which spoke to PLO Executive Committee member Wassel Abu Yousef, said that Israel agreed to the summit without any preconditions, but the PA conditioned the summit taking place on Israel ceasing construction in Judea and Samaria and releasing additional terrorist prisoners.
"We welcome any activity aimed at moving the peace process, but there are conditions that Israel must fulfill so that the meeting does not deal only with economic issues," ​​Abu Yousef said,
"At the moment we wish to move ahead with the French initiative," he added.
Israel has continuously stressed that it is willing to relaunch peace talks with the PA, but PA chairman Mahmoud Abbas has refused to accept.
Abbas recently rejected an American proposal for a meeting with Prime Minister Binyamin Netanyahu in the presence of Arab and western leaders.
Abbas's stated reason for refusing was the claim that the proposal was just a plan to circumvent the Arab and French peace proposals.
The PA chairman has also insisted that any reboot of peace talks with Israel should happen within a clear timeframe and under international supervision.
The French initiative seeks to organize an international conference to reboot talks by the end of the year.
Israel has rejected the French peace initiative and insists that the only way to achieve peace is through direct talks with the PA.