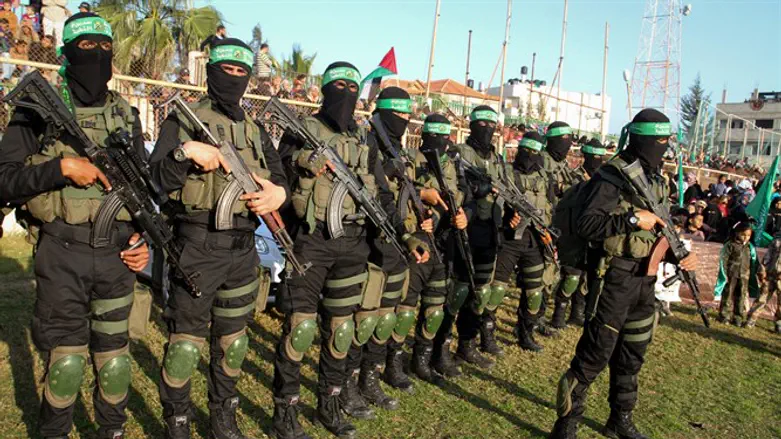 Hamas terrorists in Gaza
Abed Rahim Khatib/Flash 90
The United States on Tuesday reiterated its recommendation that Americans in Gaza leave the territory controlled by Hamas, which Washington calls a terrorist group, "as soon as possible."
The warning comes in wake of a sudden Gaza attack on the border city of Sderot. Luckily, the rocket fired from Gaza landed between two buildings, injuring no one. The IDF returned fire on several Hamas military targets in response to the ceasefire breach.
Washington regularly updates warning notices to Americans traveling to and living in countries around the world.
In the case of Gaza, the State Department warned against "all travel" to the territory and "urges those present to depart as soon as possible when border crossings are open."
It had issued a similar warning in December 2015.
Since January, 14 rockets fired from Gaza have hit Israeli territory, the IDF said.
"Gaza is under the control of Hamas, a foreign terrorist organization. The security environment within Gaza and on its borders is dangerous and volatile," the State Department said in its warning Tuesday.
An AFP count notes that 34 Israelis have killed since October 1, 2015 in Israel due to Palestinian terrorism.