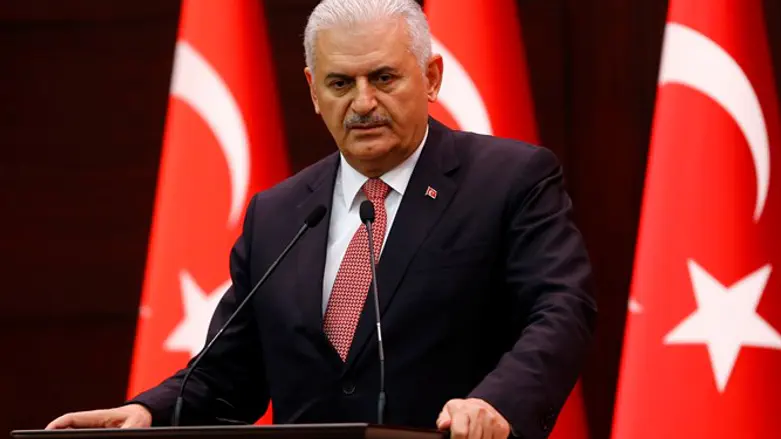 Turkish Prime Minister Binali Yildirim
Reuters
Turkish Prime Minister Binali Yildirim said Saturday his country is willing to accept a role for Syrian President Bashar Al-Assad during a transitional period but insisted he has no place in Syria's future, The Associated Press reported.
The comments came after Assad's forces began attacking Kurdish positions this week, leading some Kurdish officials to speculate that a Syrian-Turkish rapprochement was underway at the expense of Kurdish autonomy in northern Syria.
Turkey is one of the main supporters of rebels fighting to overthrow Assad, and hosts more than 2.7 million Syrian refugees.
Turkish President Recep Tayyip Erdogan has continuously been openly critical of Assad. He several times called on the Syrian president to resign and, in August of 2013, he said that the goal of any military intervention in Syria should be to topple Assad's regime.
The change in position may be due to the fact that Istanbul is concerned about the growing power of U.S.-backed Syrian Kurdish forces across the border and opposes any moves toward Kurdish autonomy or independence.
The Syrian government, too, has grown uneasy with the Kurdish forces in the north, who enjoy close relations with the U.S. government, an open antagonist of Syria's Assad, noted AP.
Turkey the regards the Kurdish People's Protection Units, YPG, as a terror group and accuses it of carrying out attacks inside Turkey and being the Syrian branch of the Kurdistan Workers' Party (PKK).
Damascus has largely refrained from attacking its homegrown Kurdish forces, which have successfully defeated the Islamic State group in multiple battles while expanding their own autonomous footprint.
However on Friday, the Syrian military's General Command released a statement referring to the Kurdish Asayesh internal police force as the "military wing of the Kurdistan Workers Party (PKK)", according to AP, a statement which appeared to be a concession to the Turkish government.
Speaking to foreign media representatives in Istanbul, Yildirim said Turkey would aim to become more of a regional player with regard to Syria in the next six months.
"Could Syria carry Assad in the long-term? Certainly not," Yildirim said. "The United States knows and Russia knows that Assad does not appear to be someone who can bring (the people) together."
"There may be talks (with Assad) for the transition. A transition may be facilitated. But we believe that there should be no (Kurdish rebels), Daesh or Assad in Syria's future," he said, using an Arabic acronym for the Islamic State group.