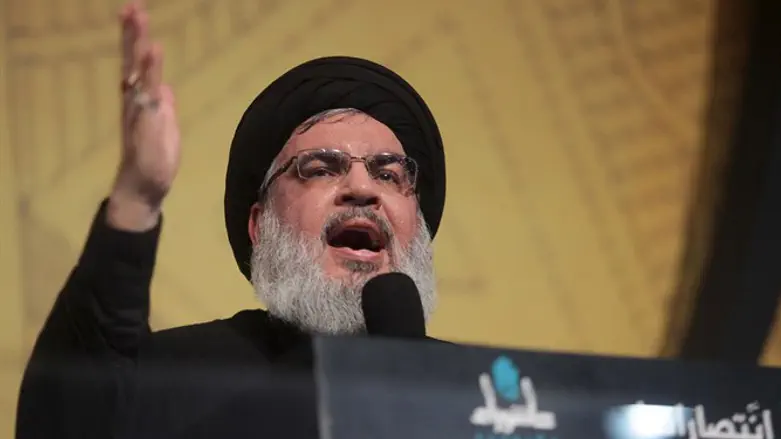 Hezbollah leader Hassan Nasrallah
Reuters
Hezbollah leader Hassan Nasrallah denied on Friday that he has been hiding in an underground bunker for the past decade, since the 2006 Second Lebanon War.
Speaking to Hezbollah's television network, Al-Manar, Nasrallah also said that his group would defeat Israel if it were to start another war.
"After the war I visited the Bekaa Valley and southern Lebanon. They (Israel –ed.) say their achievement is that they forced me to hide in a bunker. That's not true, I've met with many people away from the spotlight. I live and get around in a natural way. I do not live in a bunker," claimed the Hezbollah leader.
Nasrallah further said that the missiles that Hezbollah fired against Israel during the 2006 war came from the Syrian military industry and that the Lebanese government did not assist the terrorist organization in the war against Israel.
The interview is the latest in several appearances by Nasrallah in recent days. Last week, the Hezbollah chief claimed that Israel is deterred by Lebanon and also said that the Second Lebanon War caused the IDF to be undermined.
"The Israeli military establishment has been undermined, and there is a lack of trust between the different ranks – something which continues to this day" as a result of the war, Nasrallah said, adding, "(The war) also undermined the trust which the Israeli public has in the military, and undermined the Israeli public's belief that the IDF can win wars."
"In light of all of these results," Nasrallah continued, "it is possible to surmise that Israel was hurt in the last war in terms of its spirit, trust, and will. It also lost confidence in its very existence."
In a previous interview several months ago, Nasrallah threatened to target civilian sites across Israel and to invade the northern Galilee region.
He previously suggested that the organization would strike Israel's chemical plants in Haifa, referring to the ammonia storage tanks there as "Hezbollah's nuclear bomb".
(Arutz Sheva's North American desk is keeping you updated until the start of Shabbat in New York. The time posted automatically on all Arutz Sheva articles, however, is Israeli time.)