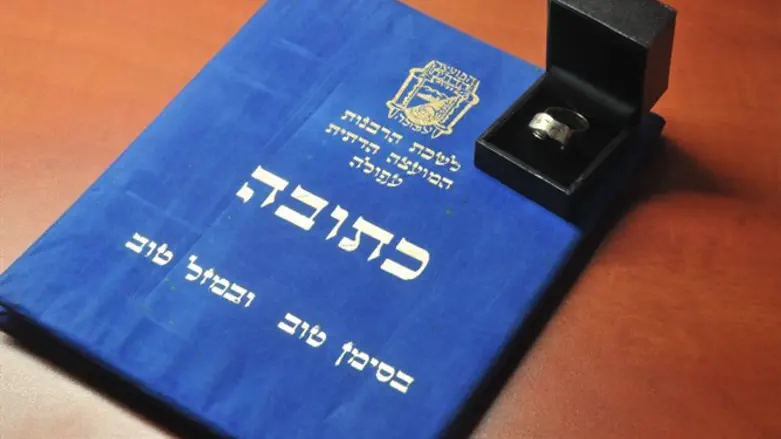 Marriage contract (ketuba), ring
Israel news photo (Flash 90)
The Jerusalem District Rabbinical Court issued a new ruling this morning (Monday) that seeks to limit the compensation that a husband owes his wife in the event of divorce, Channel 10 reported.
In Jewish wedding ceremonies performed according to traditional Jewish law, the groom signs a marriage contract (called a "Ketuba") in which he stipulates a certain amount that he owes to his wife in the event they divorce. If the husband had written a very large amount on the contract and he finds himself in a divorce, then, he can be in serious financial hot water.
The new law apparently comes as the result of a case that came to the Rabbinical Court, in which a woman demanded the exorbitant sum of 555,555 shekels as divorce compensation, since this is the number the husband had written on the marriage contract.
According to Channel 10, the husband in this case had demanded a divorce from his wife after she developed a sickness. The wife then countered that she had fallen sick due to her husband's infidelity, and would only agree to a divorce if the amount in the marriage contract was paid in full. The husband wouldn't agree to the full amount, claiming that he had written such a large amount initially for the sake of "honor and to ward off the evil eye." (the number '5' is indicative of the Hamsa, a Middle Eastern cultural symbol that is said to ward off the evil eye.)
In the end, although one judge on the Rabbinical Court actually ruled that the husband ought to pay the full amount in the contract, the other two established the majority (binding) ruling, ordering the man to pay 120,000 shekels.
Nevertheless, the Rabbinical judges have now turned to prospective grooms with an order not to write such an exorbitant price on their marriage contracts in order to prevent similar complications in the future. One of the judges even suggested that rabbis officiating marriage ceremonies ought to limit the written amount on the marriage contract to one million shekels, Channel 10 reported.