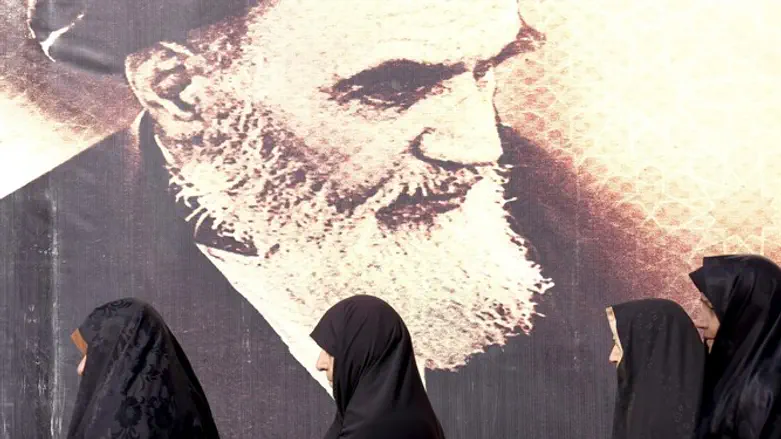 Iranian women by a poster of Ayatollah Khomeini
Reuters
The Swiss Supreme Court in Lausanne has ordered the Israel-controlled Trans-Asiatic Oil Company to pay a debt of $1.2 billion to Iran's national Oil Company.
According to Global Arbitration Review, which published the Swiss court's ruling, Iran's oil company has been removed from the sanctions regime, so there is no legal obstacle to paying it any money.
On June 27, the court directed Trans-Asiatic to pay the Iranians 250,000 Swiss francs (about 1 million shekels, or $260,000) of the monies that have been deposited with the court, and another 200,000 francs in court costs.
Trans-Asiatic appealed, and lost, saddling the company with a heavy fine.
The lost appeal is the latest skirmish between Israel and Iran over an oil transporting and marketing partnership the two countries formed before the 1979 Islamic Revolution.
The partnership had two parts: the Eilat-Ashkelon pipeline, which operated overland to stream Iranian oil from the Red Sea to the Mediterranean, and Trans-Asiatic Oil Ltd (TAO), which was registered in Panama, operated out of Tel Aviv, and ran a fleet of tanker ships and marketing channels to sell Iranian oil to Europe.
The partnership, signed in 1968, lasted only 11 years. In 1979, after the Islamic Revolution, Iran cut off all ties with Israel. Despite the diplomatic cold shoulder, Iran still faced off with Israel in three different legal procedures, in an attempt to glean money for the oil it forwarded to Israel on credit before the revolution, for the value of their half of the partnership.
The total disputed sum is in the ballpark of $7 billion. Since the Iranian oil company has been formally separated from Iran, global financial sanctions don't apply to it.
In 2015, two of three arbitrators ordered TAO to pay Iran some $1.2 billion for 50 oil deliveries made before the revolution, along with $362 million in interest. The arbitrators rejected a countersuit by Israel, claiming the debt should be erased to repay Israel for all the oil which Iran failed to deliver after the revolution.
According to Israel, the original agreement called for Iran to supply oil until 2017.

An Iranian source last year leaked the results of the arbitration, but Israel, which treats the arbitration with Iran as classified, refused to comment on the matter, other than a vague statement that it would not pay Iran.
TAO attempted to appeal the latest Swiss verdict on technical grounds, but was denied the appeal, and ordered to pay the compensation and court costs to Iran.