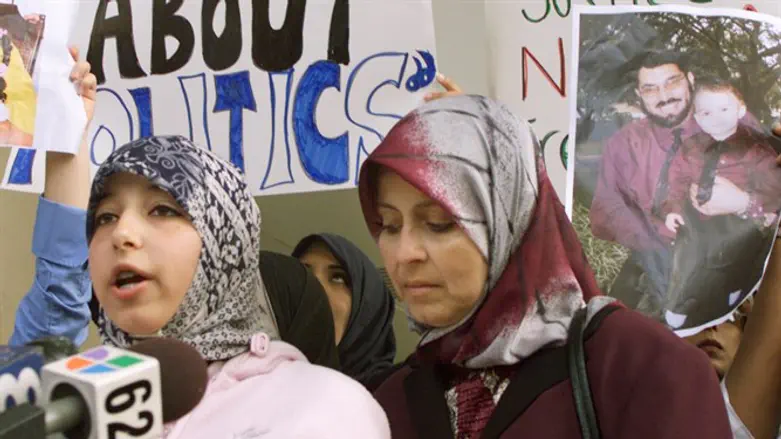 Leena Al Arian (L) and mother Nahla (R)
Reuters
The heartwarming story of a simple act of kindness that went viral just became much more complex.
Social media outlets were abuzz this weekend when a Facebook post by a young Muslim mother in the United States on Saturday spread, recalling a chance encounter with an elderly Jewish man in a local Barnes & Noble bookstore.
Noticing the mother's clearly Islamic attire, the man, named Lenny, approached the woman, offering his "heartfelt apology for the general anti-Muslim sentiment in our society today," the woman wrote on Facebook.
Lenny, who turned 90 on Friday, "had tears in his eyes" as he told the woman "that he feels awful about the bigotry my kids might one day experience, and that as a Jewish man whose parents didn't speak any English growing up, he personally understands what it feels like to be rejected and discriminated against".
"I asked if I could give him a hug… and he wanted to reassure me that most Americans are decent people who don't hate people like me or believe what they hear on the news."
But the story doesn't end with the post.
As chance would have it, the author of the post happens to be Leena Al-Arian – daughter of the convicted Islamic Jihad terrorist Sami Al-Arian.
The Kuwaiti-born Sami Al-Arian, 58, who worked as a computer engineering professor at the University of South Florida prior to his arrest, was indicted in 2003 on 17 counts of aiding and abetting the terrorist organization Islamic Jihad.
Sami Al-Arian was later convicted following a plea-bargain arrangement and handed a prison sentence and deportation order. Following the end of his term in 2015, Al-Arian was deported to Turkey.
Lenny and Leena
Screenshot
Prior to his arrest, Al-Arian had praised the Muslim Brotherhood, and had been recorded on multiple occasions calling for violent Jihad and proclaiming "death to Israel".
Despite the terror conviction, Al-Arian's family refused to disavow their father and his actions, claiming he was "persecuted" because of his background.
Speaking at a demonstration in 2003, Leena Al-Arian said on her father's behalf: "I'm crucified because of who I am."
"I am a stateless Palestinian, an Arab, a Muslim, an outspoken advocate for Palestinian rights. I am not the enemy, but the forces of exclusion and intolerance are."
While studying at the University of South Florida, Leena served as Vice President of the radical Muslim Students Association. She also maintained a blog during this period, ranting against the State of Israel, Zionism, and Holocaust education.
"I am just so tired of reading blatantly biased writings on the Holocaust... [T]he thought of sitting through that nauseating three-hour class makes me want to put a bullet through my head. I am sick of the likes of propagandists such as Elie Wiesel, Rubenstein, and others who continue to exploit the tragedy of the Holocaust to justify the continued, unjustifiable suffering of the Palestinians," Leena wrote in 2004.