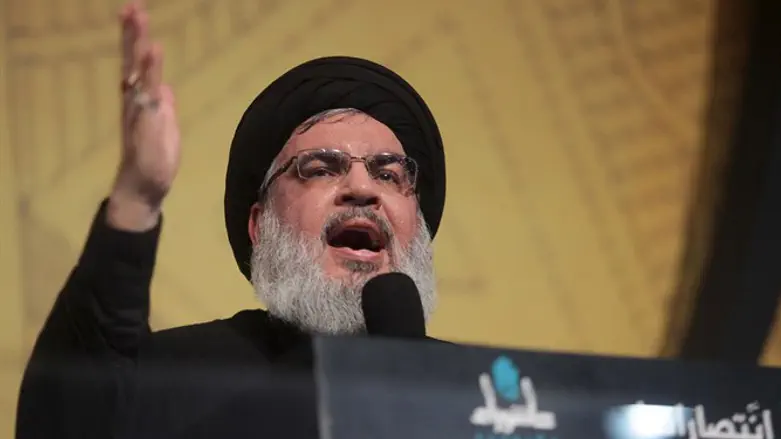 Hezbollah leader Hassan Nasrallah
Reuters
Hezbollah leader Hassan Nasrallah on Friday blasted Saudi Arabia for its alleged "normalization with Israel."
"Saudi Arabia has taken advantage of the ailing Arab situation, only to build relations with Israel. The price will be at the account of the Palestinians," he warned, in comments quoted by Lebanon's National News Agency.
"This is free normalization with Israel and this will open the doors to other states than Saudi Arabia to follow suit," added Nasrallah.
"We will be before a cultural disaster that allows Saudi Arabia to make peace with Israel. And this is the most dangerous thing that could happen," warned the Hezbollah chief, and said, "Everybody must now take a clear position."
Nasrallah's comments came in a speech from his bunker at a ceremony to honor a Hezbollah commander who recently passed away.
"The Arab situation is weak (...) and the Palestinian cause has become irrelevant," he said, according to the National News Agency.
"Saudi Arabia still insists on carrying on wars everywhere and rejecting dialogue in Bahrain, Yemen, and Syria. Its initiatives are only made towards Israel, and for free," he continued.
The comments are not the first time that Nasrallah has criticized Arab countries, particularly Saudi Arabia, over alleged attempts to normalize ties with Israel.
In March, Nasrallah declared that normalizing ties with Israel will fail because most of the Arab people still regard Israel as an enemy and an "occupier".
Those comments came after Hezbollah was blacklisted as a terrorist organization by Gulf states – a move which, Nasrallah claimed, was connected to Arab states' desire to normalize ties with Israel.
(Arutz Sheva's North American desk is keeping you updated until the start of Shabbat in New York. The time posted automatically on all Arutz Sheva articles, however, is Israeli time.)