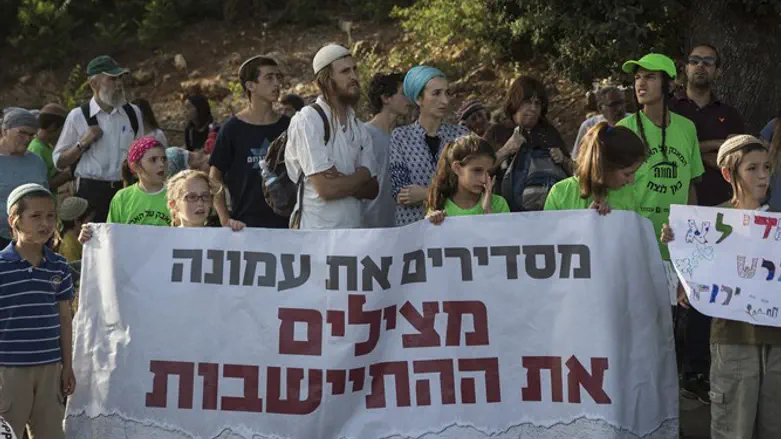 Amona residents protesting
Hadas Parush, Flash 90.
A US congressman referred to 'settlers', Jews living in Judea and Samaria, as "termites" eating into Palestinian homes, the Washington Free Beacon reports.
Speaking today (Monday) at an event for the U.S. Campaign to End the Israeli Occupation, an anti-Israel organization which tries to gather support for the Boycott, Divestment, and Sanctions (BDS) movement, representative Hank Johnson, a Democrat from the state of Georgia, told the world what he thinks about the situation in Judea and Samaria.
"There has been a steady [stream], almost like termites can get into a residence and eat before you know that you've been eaten up and you fall in on yourself, there has been settlement activity that has marched forward with impunity and at an ever increasing rate to the point where it has become alarming," rambled the congressman.
Representative Johnson first came to the world's attention in 2010, when he memorably suggested in an Armed Services Committee hearing discussing the US controlled island of Guam that the island might capsize if it becomes overpopulated, prompting the Admiral whom he was addressing to exhibit admirable self-control in calmly responding: "We don't anticipate that."
In his speech to the anti-Israel group, Johnson went on to make additional wild accusations against Israel's conduct, implying that Israelis expel people from their homes willy-nilly, for no apparent reason; an ironic claim, considering that the Jewish town of Amona is in danger of being demolished due to old claims of ownership by Palestinians.
"You see one home after another being appropriated by Jewish people who come in to claim that land just because somebody did not spend the night there," Johnson said,"The home their [Palestinian] ancestors lived in for generations becomes an Israeli home and a flag goes up," he said, adding, "the Palestinians are barred from flying flags in their own neighborhoods."
The Georgia Democrat then granted Defense Minister Avigdor Liberman a cameo in his speech, comparing him to Republican Presidential Nominee Donald Trump.
"The fact is the Israeli government, which is the most right-wing government ever to exist in the state of Israel in its history, the most right wing government, you got a guy like Trump who is now the minister of defense in Israel calling the shots on defense."
Johnson ended by claiming that he is not the only member of Congress who holds these views.