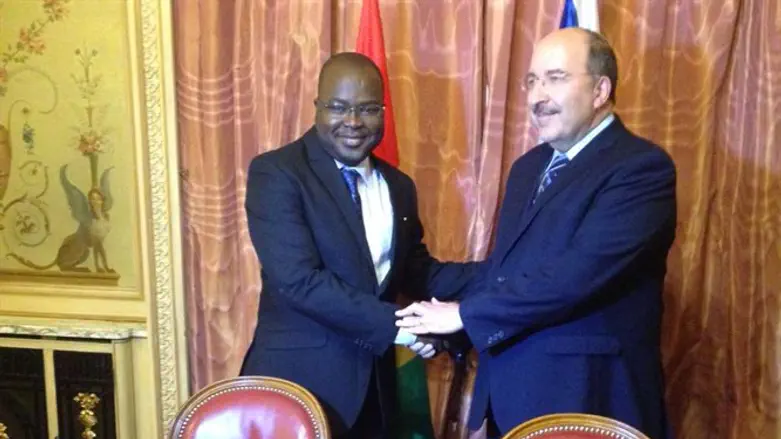 Dore Gold and Guinean Foreign Ministry director renew ties
Courtesy of Foreign Ministry
After nearly half a century, Israel and Guinea formally renewed diplomatic ties.
At a signing ceremony in Paris on Wednesday, Israeli Foreign Ministry Director-General Dore Gold and his Guinean counterpart signed off on an agreement reestablishing ties between the two countries.
Guinea, which is nearly 85% Muslim, cut ties with Israel following the 1967 Six Day War.
The move comes as Israel takes steps to strengthen relations with sub-Saharan African states.
Binyamin Netanyahu became the first sitting Israeli Prime Minister in a generation to visit Africa during a four-state trip early this month. Netanyahu's Africa trip included visits to Kenya, Rwanda, Uganda, and Ethiopia.
In May, the Knesset's Lobby for Relations Between Israel and African Countries received a 27-member delegation from 10 African countries, including Liberia, Kenya, Ghana, Angola, Rwanda, Zimbabwe, South Africa, Ethiopia, Cameroon, and Botswana.