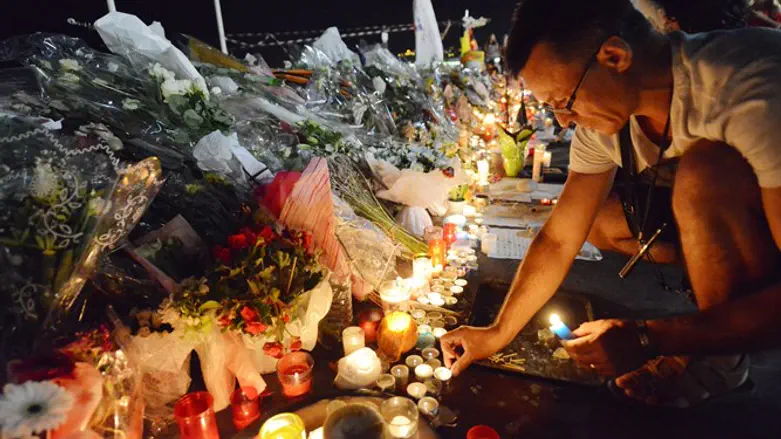 Mourners at the scene of Nice attack
Reuters
New details continue to emerge about Mohammed Lahouaiej-Bouhlel, the Tunisian-French man who drove a truck into a crowd in Nice's Promenade De Anglais on Bastille day last Thursday night, killing 84.
Prosecutor Francois Molin outlined the preliminary findings of the police investigation into Boulel's background at a press conference yesterday (Monday).
Widespread reports had already indicated that Bouhlel, though from a Muslim background, was never seen to be religious by family and friends. Molin confirmed this, saying the Bouhlel "ate pork, drank alcohol, took drugs and had a promiscuous sex life."
However, there were recent indications that he was taking a greater interests in Jihadist ideology. According to Molin, Bouhlel's computer contained very "violent images" from radical Islamic websites, as well as links to Jihadi sites, research about the recent shootings in Orlando and Dallas, and research into Osama bin Laden and the Algerian terrorist leader Mokhtar Belmokhtar.
In addition, the terms "horrible accident", "terrible fatal accident" and "shocking video, not for sensitive souls" had been recently searched on his computer.
In conversation with police detectives, one witness said that in the context of a conversation about ISIS videos of beheadings posted online, Bouhlel had said "I'm used to seeing that". Other witnesses said that he'd grown a beard over the week before he committed the attack, and told acquaintances that the reasons for growing the beard were religious.
Search history from his computer showed that one July 7th, Bouhlel had researched the Koran and religious songs.
Evidence from his phone showed that he'd visited the Promenade De Anglais several times in the days before he committed the attack.
Prosecutor Molin told media that all of these evidence sufficed to "establish the premeditated nature of this act."