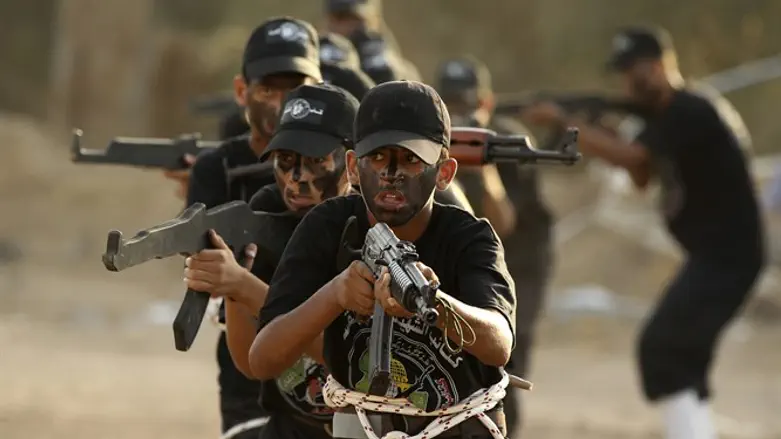 Children train in Gaza
Flash 90
Approximately 30,000 Palestinian children and teenagers have signed up to attend Hamas' 25 summer camps in the Gaza Strip.
The camps run by the Izzadin al-Qassam Brigades, Hamas' military wing, include military training with live fire, combat tactics, and religious indoctrination.
In an announcement marking the opening of summer camp the al-Qassam brigades declared: "The responsibility to liberate Palestine and return all the stolen rights of the people is common to all sects and groups in society, and is to be fulfilled by inculcating the culture of the struggle into every house in Palestine, as we do in the 'pioneers of liberation' summer camps."
They emphasized that the importance of inculcating these militaristic values stems from the necessity of preparing them for future challenges of "actions for restoring the rights of Palestinians."
The Hamas' youth group also encourages young Palestinian girls to attend the camps.
Hamas promises that the girls will gain knowledge and strengthen their fear of Allah by taking part in religious preaching (called "Dawa" in Islam), all accompanied by field trips, arts and crafts, lectures, and more.
A video produces for recruitment calls on the girls to "join us", with an image of two girls armed with an AK-47 assault rifle on a background of the al-Aqsa mosque on the Temple Mount. The song playing in the video talks about the goal of "liberating" the al-Aqsa mosque.