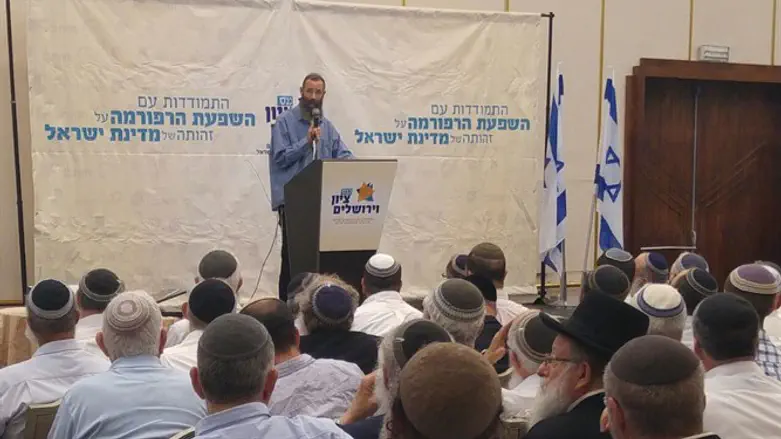 Rabbi Yigal Levinstein
Liba organization public relations
The head of the pre-military academy in Eli, Rabbi Yigal Levinstein, has continued to arouse furor by publishing a new speech from last week's Zion and Jerusalem Conference.
During his talk, Rabbi Levinstein spoke about the Reform Movement and described a conversation he had with the IDF's Chief Education Officer.
"I said there are red lines and I am not willing to bring them up for discussion," he told the audience. "I said: the Reform Movement is not a Jewish movement. (The chief education officer) asked me 'why?' I said: 'It's a Christian movement. There were many branches that began in Judaism, then left Judaism and became other movements."
Rabbi Levinstein continued by attacking the Education Corps's conduct. "They take soldiers in the officer's training course to plays at the Bima and Cameri Theaters, where they present the worst values imaginable for educating and fighting for the right way [to live]."
He added that "twice already they have shown us plays: one is 'Gorodish,' in which an actress performs in an immodest manner, to put it mildly, on stage."
The director of the Reform Movement in Israel, Gilad Kariv, said in response, "Rabbi Levinstein will be remembered as someone who led one of the worst blasphemous acts in recent years. His hateful remarks and divisiveness are a direct continuation of teaching of the zealots who destroyed Jerusalem two thousand years ago. We hope that the Israeli public will throw out his words of hatred and will isolate Rabbi Levinstein and his partners in their incitement campaign."
Interestingly, Israel's current President, Ruby Rivlin, was invited to visit an American Reform Temple when first elected as an MK in 1989. He told the Israeli media afterwards that "as a Jew who does not observe 613 commandments and perhaps not even 13 commandments, I was deeply shocked… I felt as if I were in a church."