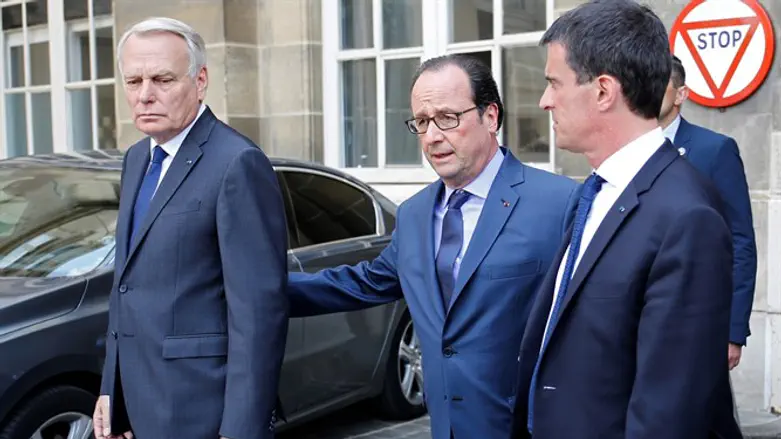 French President Hollande with prime minister, foreign minister
Reuters
(AFP) After jihadists struck Paris in January 2015 politicians marched shoulder to shoulder in solidarity, and following the attack 10 months later they stood together to sing a moving rendition of the "Marseillaise".
But within hours of the carnage in Nice - France's third major terror attack in 18 months - opposition politicians had accused the government of failing miserably to protect the nation.
Marine Le Pen, head of the far-right National Front party and a contender in the 2017 presidential race, called on France's interior minister to quit after the repeated bloodshed.
"In any other country in the world a minister with a toll as horrendous as Bernard Cazeneuve - 250 dead in 18 months - would have quit," she told a news conference Saturday at her party's headquarters.
France's own lawmakers said last week, following an exhaustive parliamentary inquiry, that the 2015 attacks represented a "global intelligence failure" because the nation's myriad agencies had struggled to communicate.
The issue has become even more urgent after at least 84 people were killed in the French Riviera city when Tunisian Muslim Mohamed Lahouaiej-Bouhlel plowed a 19-tonne truck into a crowds during Bastille Day celebrations.
The Islamic State terror group (ISIS) took credit for the slaughter - calling Lahouaiej-Bouhlel a "soldier" - as it did the attacks in November 2015 in the French capital that claimed 130 lives.
Gunmen in the January 2015 assaults on the Charlie Hebdo weekly and a Jewish supermarket were linked to both ISIS and Al-Qaeda.
'Can't protect us?'
Nice's regional head Christian Estrosi, of the right-wing Republicans party, said the government had failed to recognize the threats, despite warnings.
A September 2014 video from ISIS encourages followers who do not have access to guns or bombs to "arrange to meet alone with a French or an American infidel and bash his skull in with a rock, slaughter him with a knife, run him over with your car."
Estrosi called out the interior minister and head of state for empty rhetoric and declarations of emergency while failing to step up vigilance against a known threat - vehicles.
"You are supposed to pay close attention to the weapons that the enemy recommends for killing you and you take every precaution to thwart use of those weapons," he told reporters Saturday.
"I would like to know what measures were taken... so that someone could not kill with that weapon," he added.
The criticism is serious enough that President Francois Hollande came out with a call for national unity against the "temptations to divide the nation."
Given the risks of division, "we must remember unity and cohesion and consistency in the country around its values," said government spokesman Stephane Le Foll.
The French people's approval of their president has enjoyed bounces following the previous attacks, but his popularity ratings have remained the lowest ever for a modern leader in France.
Will public opinion rise for Hollande and his government, as it did after the previous attacks?
Or will "public opinion, after a third large-scale attack... say 'this government can't protect us?'" said Frederic Dabi, of polling firm IFOP.
After a season of discontent in France, which saw violent street protests and strikes against unpopular labor reforms, there are already signs that patience is wearing thin.
"Even if it is a time for mourning and compassion, one feels clearly that the country is headed for a time of questioning its political leadership," wrote Yann Marec in Midi Libre daily.
"National cohesion is good, but so too are results on the ground," he added.