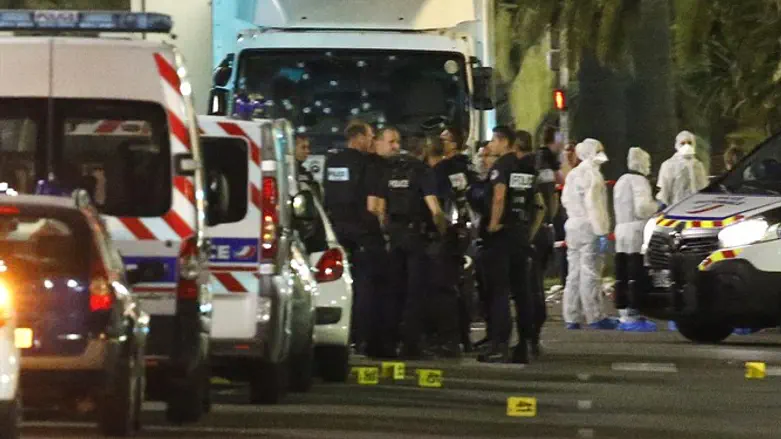 Site of Nice terror attack
Reuters
Middle East states and leading Muslim clerics united Friday in condemning a truck attack that killed at least 84 revelers in the French resort of Nice, calling for a joint struggle against extremism.
In Israel, Prime Minister Binyamin Netanyahu said the Nice attack was "a reminder that terrorism can strike anywhere" and offered his country's "help to the French government to fight against this evil which must be eradicated".
But condemnation was also forthcoming from Sunni Muslim Arab leaders.
Sunni Islam's leading center of learning, Al-Azhar, said the "vile terrorist attack" contradicted Islam and urged the world to unite efforts "to defeat terrorism and rid the world of its evil".
Tunisia said that the attacker, who police said held joint French-Tunisian citizenship, had committed an act of "extreme cowardice" and expressed solidarity with France against the "scourge of terrorism".
It also said it was opening a judicial inquiry into the attack.
"There was (at least) one Tunisian victim, and the probability that the assailant was Tunisian. The law authorizes the justice department in charge of criminal affairs to investigate events outside Tunisian territory," judiciary spokesman Sofiene Sliti told AFP.
At least two children were among the dead after a gunman rammed a truck through a crowd of thousands celebrating Bastille Day on the French Riviera on Thursday evening.
Senior Egyptian Muslim cleric Shawki Allam condemned the assailant as an "extremist".
"People who commit such ugly crimes are corrupt of the Earth, and follow in the footsteps of Satan... and are cursed in this life and in the hereafter."
The six Gulf Arab states issued a joint statement saying that they "strongly" condemned the "terrorist" act in Nice.
"The Gulf Cooperation Council states stand in solidarity with the French republic following this cowardly criminal incident whose perpetrators have been stripped of all moral and human values," the bloc's chief Abdullatif al-Zayani said.
Saudi King Salman, in a message of condolences to France's President Francois Hollande, said his country "condemns in the strongest terms possible this criminal act" and stressed its rejection of "all forms of terrorism and the importance of international efforts to confront and eradicate it".
'Heinous crime'
Saudi Arabia's top religious body, the Council of Senior Scholars, said the attack "should be a reminder of similar (crimes) happening under the eyes and ears of the whole world every day" in Syria.
United Arab Emirates Foreign Minister Sheikh Abdullah bin Zayed Al-Nahyan said: "This heinous terrorist crime makes it imperative for all to work decisively and without hesitation to counter terrorism in all its forms and manifestations."
Both Saudi Arabia and the UAE are members of a US-led coalition which has carried out an air war against the Islamic State jihadist group in Syria alongside France.
Riyadh's regional rival Iran also decried the "criminal terrorist incident" in Nice.
"As we have repeatedly said before, terrorism is an evil phenomenon that will only be eradicated through international unity and collaboration," foreign ministry spokesman Bahram Ghasemi said.
Egyptian President Abdel Fattah al-Sisi denounced "in the strongest terms the vile terrorist attack," his office said. Arab League chief Ahmed Abul Gheit condemned the "craven terrorist attack", his spokesman said.
AFP contributed to this report.