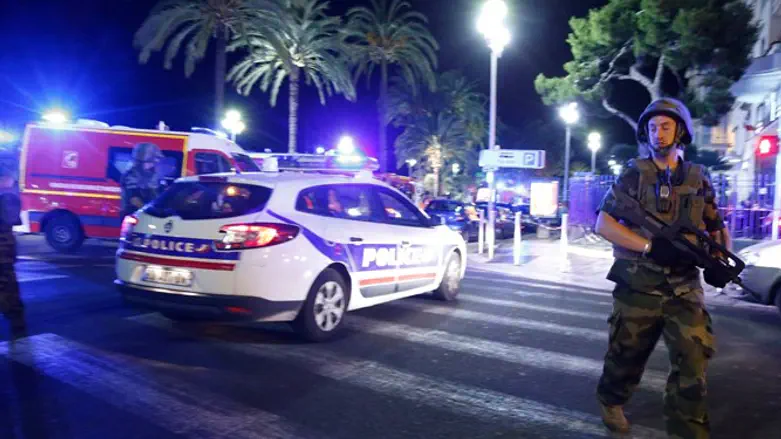 Scene of the attack in Nice
Reuters
France faced a painful morning on Friday, after 84 people were murdered in the worst vehicular terror attack in history.
A 31-year-old Muslim terrorist used his truck to run over hundreds of people out celebrating the French independence day. Eighty-four of the victims were killed, including dozens of children, and over a hundred wounded.
The perpetrator was a French citizen of Tunisian origin. His two-kilometer path of destruction ended in an exchange of gunfire with police. It is believed that he intended to continue his attack using the ammunition and grenades found in the truck.
The president of France's Jewish community has called on his followers to pray for the Jews who were hurt in the attack: Axel Ben Yael, Moshe Ben Ya'akov, Klara Bat Numa, Yonatan Ben Zuzi, John Drey and Dominique Azen.
Prime Minister Binyamin Netanyahu said that "Israel condemns in the strongest terms last night's horrific attack in Nice.
"We are again reminded that terrorism can strike anywhere and must be fought everywhere.
"Israelis stand united with the people of France today. We join you in mourning those who were killed and wish a speedy recovery to the wounded.
"Israel is ready to help the French government fight this evil until it is defeated."
Similarly, Deputy Defense Minister Rabbi Eli Ben-Dahan (Jewish Home) said: "Again Muslim terror hits Europe. The war on terror is a war involving all the world's countries."
Rabbi Ben-Dahan then spoke to the French Jewish community, saying, "The State of Israel, the state of the Jewish People, will help and support you. We are waiting for you here."
Yesh Atid head Yair Lapid also commented on the attack. "Terror is appalling because of its suddenness. One moment people are celebrating, singing, laughing, embracing their families. A few seconds later there's blood, screams and death. I send my condolences from here to the entire French people."
According to him, "What happened in Nice last night is a reminder that we cannot defeat Islamist terror through words and not through conciliatory gestures. We need to stand strong against it, without blinking and without hesitation. Israel has much to give in this field. We have the experience, the intelligence, and the methods of operation. France knows that we stand with it."