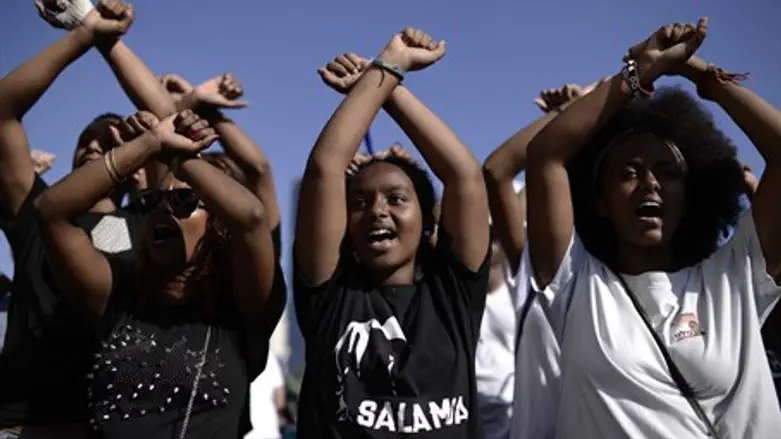 Ethiopian-Israeli protesters in Tel Aviv
Tomer Neuberg/Flash90
Hundreds of Israelis of Ethiopian descent took to the streets of Tel Aviv on Sunday to protest what they consider the unfair and discriminatory attitude of the authorities and police brutality in particular.
Protesters blocked major roads as they marched northward starting from the Sarona complex to the HaShalom Interchange. Some even sat down in the middle of Kaplan Street and refused to leave.
Ten demonstrators were arrested for disorderly conduct. Some of the demonstrators wore shirts featuring the image of Yosef Salamsa, an Ethiopian-Israeli youth who committed suicide in 2014.
The Ethiopian-Israeli community activists said Salamsa was the victim of repeated abuse by police officers, a factor that may have contributed to his suicide motive.
Activists have called the case representative of what they say is rampant police mistreatment of Israelis of Ethiopian heritage
Police said that at this time the protest has subdued and traffic has resumed to normal.