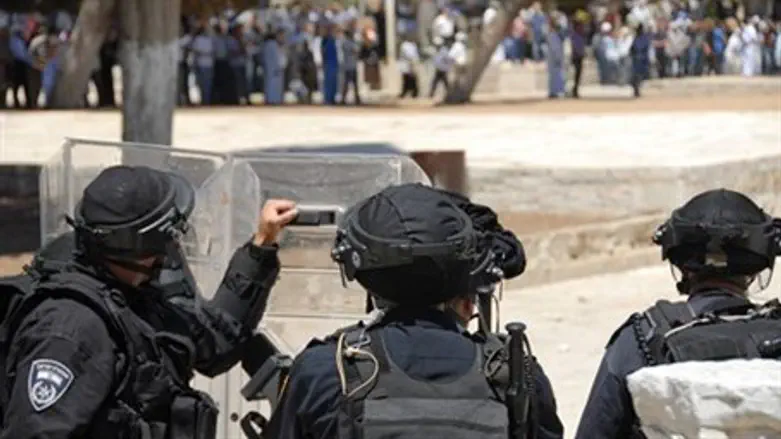 Police face rioters on Temple Mount
Police Spokesman's Unit
Jerusalem police have arrested 58 Muslim extremists involved in recent riots and disturbances on the Temple Mount.
Last week saw some of the worse violence at the holy site in months, as Islamists stockpiled rocks and other projectiles inside the Al Aqsa Mosque, camped out in the mosque overnight Saturday and launched attacks on Israeli security forces in an attempt to prevent Jews from visiting.
The riots continued into Tuesday, but did indeed achieve their intended goal, with Jewish visits to the Temple Mount canceled until the end of Ramadan.
Despite being Judaism's holiest site, Jewish visits are greatly restricted there, with all forms of non-Muslim worship strictly forbidden, as part of measures to avoid Muslim violence. Jewish Temple Mount campaigners have criticized the measures as a surrender to terrorism.
Last year, sustained rioting in and around the Temple Mount eventually spread to the rest of Jerusalem, helping to fuel the wave of terror which swept across the country in the months that followed.
Scores of arrests and the banning of a number of Islamist groups responsible for fomenting violence and engaging in a campaign of harassment of Jewish visitors helped calm the situation, but tensions returned with the onset of Ramadan, the Muslim holy month, which usually sees an uptick in incitement in mosques and on social media.
In related news, the Government Security Cabinet met late last night and decided on a number of additional measures aimed at quelling the recent surge in Arab terrorism.