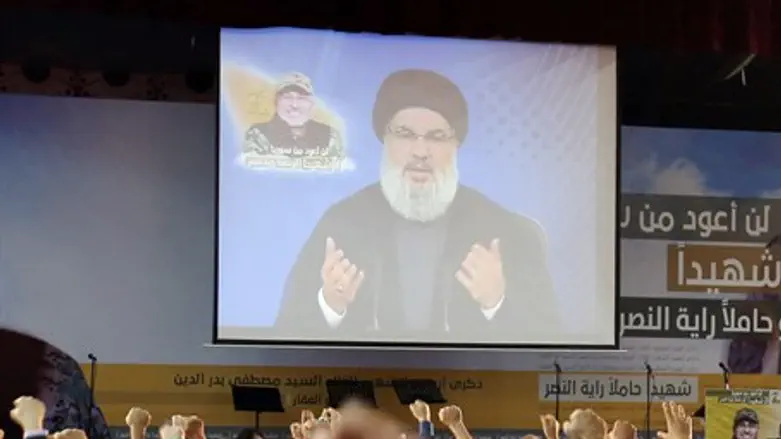 Nasrallah addresses supporters
Reuters
Hezbollah leader Hassan Nasrallah acknowledged on Friday that his group had lost fighters in Syria, but vowed to continue to be involved in the war there.
Speaking in remarks broadcast on the Shiite group's Al-Manar television and quoted by AFP, Nasrallah said that the offensive on the city of Aleppo was the "greatest battle" in Syria.
He stressed his group would "increase our presence in Aleppo... because the real, strategic, greatest battle is in Aleppo and the surrounding area."
Nasrallah also announced that 26 Hezbollah fighters had been killed in the offensive this month, a rare admission of casualties for the group.
He spoke at a commemoration event for Mustafa Badr al-Din, the Hezbollah commander killed in an explosion on May 12 near Damascus international airport.
Hezbollah has in the past blamed the elimination of its leaders on Israel, but in the case of Badr al-Din, it said that "Islamist extremists" were behind his killing, without naming any particular group.
Hezbollah has intervened in Syria's complex war on behalf of the regime of President Bashar al-Assad and has dispatched thousands of fighters to Damascus, Aleppo, and Homs provinces, among others.
"We are facing a new wave, or a new phase, of military operations in Syria that will be fought in the north, specifically in the area of Aleppo," Nasrallah said Friday, according to AFP.
"Fighting in defense of Aleppo is in defense of the rest of Syria, of Damascus. It's in defense of Lebanon and Iraq and Jordan," Nasrallah declared via video-link.
"This is why it is our duty to be in Aleppo -- and we were, and we will stay in Aleppo," he stressed.
Nasrallah also admitted his group's close connections with Iran, denying reports that Hezbollah was low on funds due to sanctions that have been imposed on it by the United States and others.
"We say openly that our funds come directly from Iran. As long as Iran has money, so will Hezbollah have money," he declared, according to a report on Army Radio.
(Arutz Sheva's North American desk is keeping you updated until the start of Shabbat in New York. The time posted automatically on all Arutz Sheva articles, however, is Israeli time.)