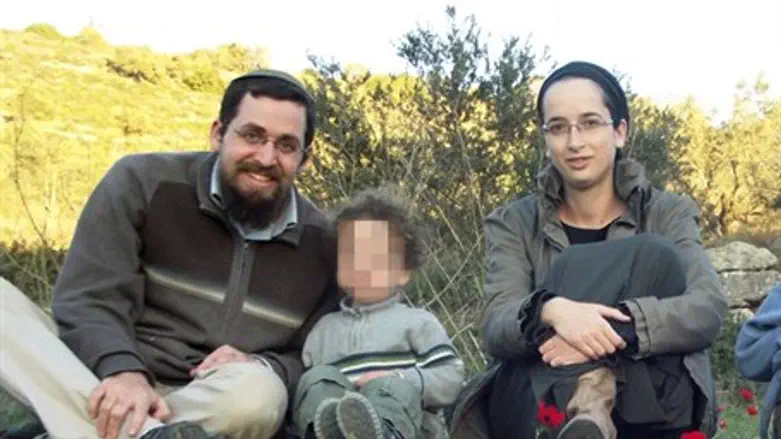 Eitam and Naama Henkin
No credit
A military court in Samaria which found four Hamas terrorists guilty in the murder of Rabbi Eitam Henkin and his wife Naama, who were slain on Route 60 south of Shechem (Nablus) last October, handed down life sentences to the four on Wednesday.
The court sentenced all four members of the terror cell that killed the couple to two life sentences each, plus an additional 30 years imprisonment cumulatively.
Security officials said the Hamas cell was highly trained and had been active for months before the deadly attack.
The four terrorists had originally planned to kidnap civilians, presumably to be traded for jailed Hamas members. The names of the four convicted terrorists are Yahia Muhammad Naif Abdullah Hajj-hamad, who is believed to have been the shooter; Samir Zahier Ibrahim Qusah; Karem Razik; and Amjad Aliwi.
When the four terrorists attacked the Henkin family car as it traveled on Route 60, with Eitam, Naama, and the couple's four children in the vehicle.
After the terror cell spotted the car approaching they moved to intercept. One terrorist opened fire, shooting dozens of rounds towards the car. The terrorists then moved in and attempted to kidnap the couple.
When they failed, the cell shot and killed the couple at close range – in front of the couple's children.
Three of the four terrorists involved in the Henkin murders were also tried for prior terror attacks, including a spate of shootings in August 2015.
The cell members were found guilty in May. A fifth terrorist involved in the attack has been found guilty as well, but has yet to be sentenced.
Two additional terrorists who helped plan the attack have yet to be tried.