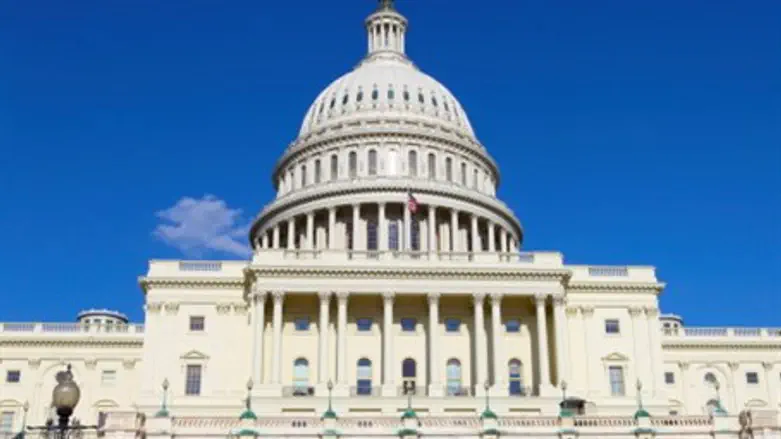 Capitol Hill Washington DC Congress America
Thinkstock
The United States House of Representatives on Thursday passed a $576 billion defense spending bill which includes $635.7 million for U.S.-Israel missile defense programs, despite a threat by the Obama administration to veto the bill, The Jewish Insider reports.
The fiscal 2017 defense appropriations bill includes $268.7 million in research and development funding for U.S.-Israel cooperative missile and rocket defense programs; $25 million in research and development funding for U.S.-Israel directed energy activities, such as laser technologies, to combat missiles and rockets; $72 million for procurement of the Iron Dome rocket defense system; $150 million for procurement of the David's Sling missile defense system; and $120 million for procurement of the Arrow-3 missile defense system.
It passed by a majority of 282-138, noted the report.
In addition, the House included $42.7 million for U.S.-Israel anti-tunnel cooperation to continue developing technologies for dealing with the challenge of locating, mapping and destroying terrorist tunnel networks from Gaza.
The passing of the bill comes despite the fact that earlier this week, the White House announced its objection to the Congressional proposal to increase funding for Israeli missile defense in 2017.
White House officials on Wednesday night played down the statement objecting to the proposal, explaining that the administration believes any additional aid to Israel should be part of the 10-year military aid agreement the two countries are now negotiating, and not in the 2017 defense budget, as Congress proposed.
U.S. State Department spokesman John Kirby defended the administration's opposition to the funding increase on Wednesday, calling it "the largest such non-emergency increase ever." Kirby added that the increase "would consume a growing share of a shrinking U.S. Missile Defense Agency's budget", according to The Jewish Insider.
The current defense agreement between Israel and the United States remains in force until 2018, and Prime Minister Binyamin Netanyahu has been urged to accept President Barack Obama's 10-year military aid package which reportedly includes a total of $145.8 million for Israeli missile defense programs, a sharp drop in financial support.
A total of $3 billion in defense aid is given annually, but Netanyahu has asked for an increase to $5 billion annually, in light of the greater need for security due to the growing Iranian threat after the nuclear deal. 
In a statement released following Thursday's vote, AIPAC commended the GOP-controlled House "for significantly bolstering its support of U.S.-Israel missile defense cooperation," which will "help Israel defend its citizens against rocket and missile threats, and contribute to America's missile defense programs."
"As Israel faces dramatically rising security challenges, AIPAC urges inclusion of these vital funds in the final versions of the Fiscal Year 2017 defense authorization and appropriations bills," AIPAC added, according to The Jewish Insider.