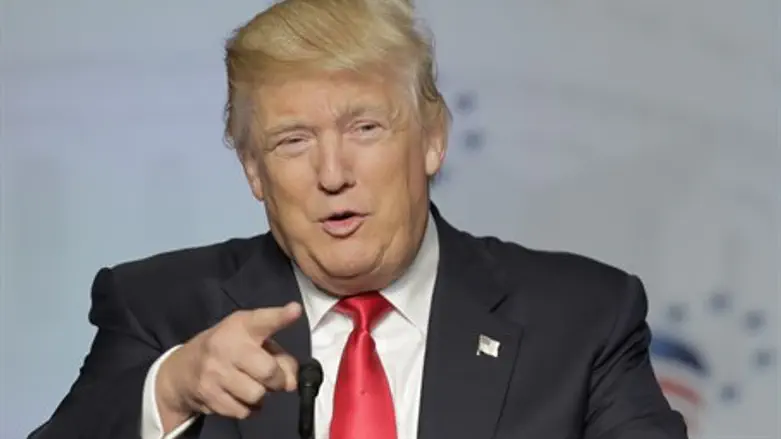 Donald Trump
Reuters
Republican presidential candidate Donald Trump on Friday called for the United States to strengthen its alliance with Israel.
Speaking to Evangelical voters in Washington, Trump said, "We all have to deal with the threat of Islamic extremism and ensure the security of Israel."
"We must continue to strengthen our friendship with Israel," he added. "We must act to ensure Israel's continued security."
He also attacked his Democratic rival Hillary Clinton and said that she was being "weak" on Islamist terrorists.
The real estate mogul said Clinton's refusal to use the phrase "radical Islamic terrorism" makes her unfit to be president, according to remarks quoted by Reuters.
He criticized Clinton's willingness to accept thousands of refugees from the Syrian civil war into the United States and challenged her to "replace her support for increased refugee admission" in favor of a new jobs program for inner cities.
Trump stopped, however, short of repeating his own call for a temporary ban on Muslims entering the United States, a proposal that has drawn heavy fire from Republicans and Democrats.
"We have to temporarily stop this whole thing with what's going on with refugees where we don't know where they're coming from. We have to use the money to take care of our poorest Americans so they can come out of this horrible situation that they're in," he said, according to Reuters.
The comments on Israel follow this week's shooting attack in Tel Aviv in which four Israelis were murdered. Trump, an enthusiastic supporter of Israel throughout his campaign, on Thursday issued a scathing condemnation of the terror rampage, calling it "outrageous".
"Just as fast as the condolences arrive from the civilized world is the praise arising out of the uncivilized one. Hamas praised the attack, calling the attackers 'heroes.' Reports out of Hebron indicate that residents of the terrorists' hometown lit up the night sky with celebratory fireworks. One Palestinian 'news organization' even referred to the shootings, in which the assailants dressed up as observant Jews, as a 'Ramadan treat.' The leader of Hamas called the injured terrorist a 'hero.' How despicable!" wrote Trump.
"The American people stand strong with the people of Israel, who have suffered far too long from terrorism. Israel's security is a matter of paramount importance to me and the American people," he added.
Clinton, too, condemned the shooting attack, which she described as "heinous".
"I stand in solidarity with the Israeli people in the face of these ongoing threats, and in unwavering support of the country's right to defend itself. Israel's security must remain non-negotiable," stressed Clinton.
(Arutz Sheva's North American desk is keeping you updated until the start of Shabbat in New York. The time posted automatically on all Arutz Sheva articles, however, is Israeli time.)