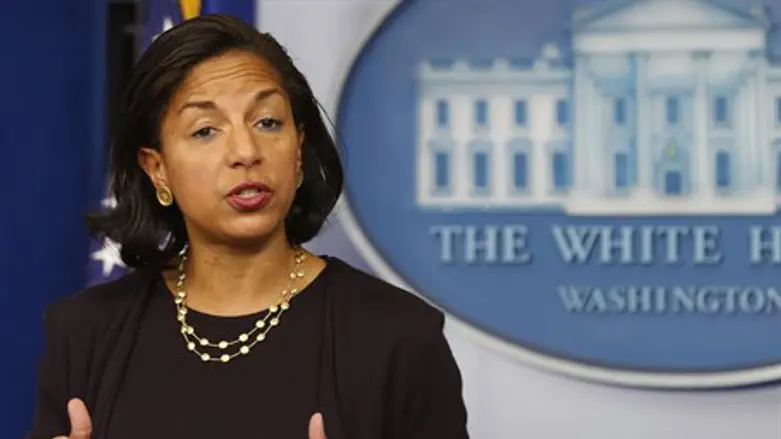 National Security Advisor Susan Rice
Reuters
Despite her comments opposing "settlements", U.S. National Security Adviser Susan Rice promised Israel that the new military aid agreement between the two countries that is currently being negotiated will constitute "the single largest military assistance package — with any country — in American history," Haaretz reported Tuesday.
The comments came during Rice's address on Monday to the American Jewish Committee Global Forum in Washington.
She said the new decade-long aid package, which is expected to provide Israel somewhere between $37.5 billion and $40 billion over the life of the pact, will "constitute a significant increase in support," providing funding to update Israel's aircraft fleet and strengthen missile defenses.
Hinting at the polarized views on Israeli policy among the U.S. presidential candidates, Rice said that "Israel's security isn't a Democratic interest or a Republican interest—it's an enduring American interest," according to Haaretz.
The current defense agreement between Israel and the United States remains in force until 2018, and Prime Minister Binyamin Netanyahu has been urged to accept President Barack Obama's 10-year military aid package which reportedly include a total of $145.8 million for Israeli missile defense programs, a sharp drop in financial support.
A total of $3 billion in defense aid is given annually, but Netanyahu has asked for an increase to $5 billion annually, in light of the greater need for security due to the growing Iranian threat after the nuclear deal. 
Rice's comments on the aid came despite the fact that, at the same venue, she lashed out at Israel's "settlement activity" and said that the only road to "sustainable security for Israel and to dignity and self-determination for the Palestinians is two states for two peoples."
"Just as we oppose counterproductive Palestinian actions and strongly condemn incitement and violence, settlement activity corrodes the prospects for two states," she said, according to Haaretz. "It moves Israel toward a one-state reality."