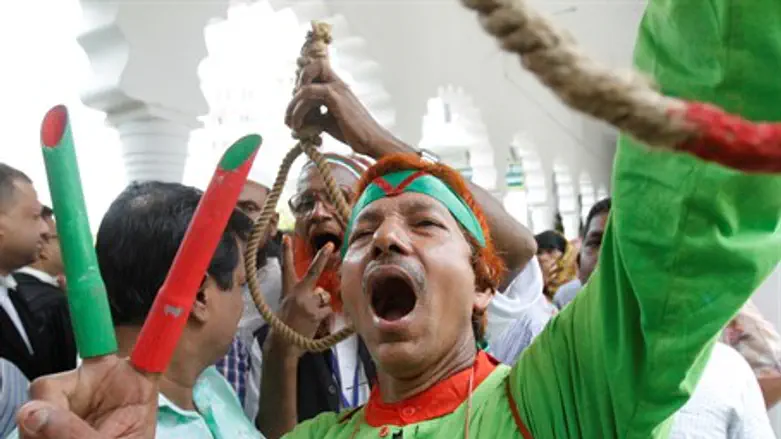 Protest in Bangladesh (illustration)
Reuters
Bangladesh has seen a bloody string of murders targeting secular bloggers and religious minorities, with most of the killings claimed by Islamist groups - but according to Bangladesh Home Minister Asaduzzaman Khan, Israel is to blame.
In accusing Israel of inexplicable involvement in the local murders, Khan noted that opposition MP Aslam Chowdhury, a joint secretary of the Bangladesh National Party, was arrested last week after local media reported he had met former Israeli government adviser Mendi Safadi in India in March.
Chowdhury, a tycoon from the southern city of Chittagong, was charged with sedition. He has insisted his visit was a business trip and that he did not meet an "Israeli intelligence agent" as was charged.
But according to Khan, whose Home Ministry gave the green light for charging Chowdhury with sedition, the MP's meeting with the Israeli was proof of an "international conspiracy" against Bangladesh, reports BBC on Monday.
Khan's conspiracy theory against Israel is far from the first in the Muslim-majority nation of Bangladesh - back in 2014 a Bangladesh court jailed a newspaper editor for seven years for trying to travel to Israel more than a decade earlier to speak about a rise in Islamic terrorism.
Khan's assertions come despite the fact that Islamists have gone as far as to publicly claim most of the murders.
Just a day earlier on Sunday Mahmuda Aktar - the wife of a senior police officer investigating the banned Islamist Jamayetul Mujahideen Bangladesh (JMB) group for its role in the spree of killings - was stabbed and shot in the head in front of her six-year-old son. The brutal murder took place in Chittagong.
Also on Sunday Christian grocer Sunil Gomes was hacked to death by terrorists who support Islamic State (ISIS) in the village of Bonpali, located in the northwest.
The government claims ISIS has no presence in Bangladesh, and has blamed the opposition parties and local militant groups instead.
At least 30 people have been murdered in the wave of attacks, leading critics to condemn the government for not dealing with the violence that exclusively targets those who are opposed by Islamists.
Victims have included university professors, gay rights activists, foreigners, and members of religious minorities including Shi'ite, Sufi and Ahmadi Muslims, Christians and Hindus.