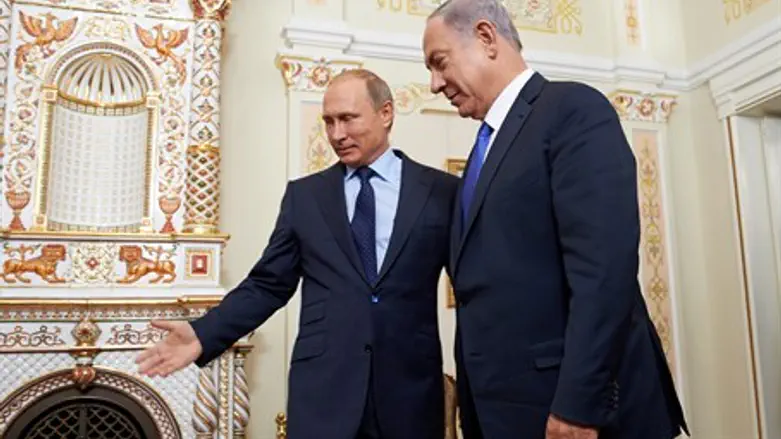 Putin and Netanyahu
Israeli Embassy in Russia/ Flash 90
Prime Minister Binyamin Netanyahu headed to Moscow this morning, for his third visit to the Kremlin in nine months, as Israel-Russia ties continues to burgeon.
The meeting is the fourth one between Netanyahu and Russia President Vladimir Putin during the same period, after the pair also met at the sidelines of the recent UN climate change conference in Paris. Israeli President Reuven Rivlin has also met with Putin during that time, even cancelling a trip to Australia to visit the Russian leader at the Kremlin.
In an illustration of the growing alliance between their two countries, this time Netanyahu is scheduled to stay in Russia for an extended trip of two and a half days, meeting other leading Russian officials as well as the Russian President.
The official pretext for this visit is to mark 25 years of official diplomatic relations between Israel and Russia. Until then, Israel's relationship with what was then the Soviet Union had been hostile one, with Moscow backing Israel's Arab enemies and declaring itself opposed to Zionism.
Today, however, things are very different. Official explanations aside, the two leaders will be engaging on a range of issues of mutual interest and potential cooperation, most notably the ongoing bloody civil war in Syria.
Russia, which supports Syrian dictator Bashar al-Assad, has been heavily engaged in Syria on the side of the regime. While Israel considers the Assad regime - a close ally of Iran - an enemy, and is still technically at war with it, Jerusalem and Moscow have seen their interests in Syria converge as of late.
Last year, Netanyahu and Putin reached a landmark agreement to coordinate all Israeli and Russian forces in and over the skies of Israel's northern neighbor.
Israel, concerned over the growing Iranian presence in Syria, has operated extensively to thwart the transfers of sophisticated weaponry and radar equipment to Hezbollah, which is also fighting on behalf of the Syrian regime. The Israeli air force has also assassinated several leading Hezbollah terrorists based in Syria, who were plotting attacks against Israeli targets.
While Russia is working to secure its own strategic interests in Syria - most crucially by preserving its naval and other military bases in western Syria - the Kremlin has made it clear it has no interest in facilitating attacks against Israel, and has allowed Israeli aircraft free movement over the skies of Syria. In return, among other things, Israel has committed to alerting Russia of impending airstrikes to ensure no Russian casualties, and has allowed Russian aircraft to cross into Israeli airspace when operationally necessary for its operations in southern Syria.
In a symbolic illustration of the growing alliance, last week Putin signed an executive order to hand over an Israeli tank seized by pro-Soviet Arab forces in Syria during the First Lebanon War.
But while previous - far more speedy - visits by Netanyahu have focused purely on the Syrian crisis, this extended trip is expected to also deal with a range of other issues, according to sources close to the PM. Among other things, the pair will discuss the battle against global Islamic terrorism, as well as the diplomatic process with the Palestinian Authority. 
Both topics come at a particularly important time. Russia - which is in Syria ostensibly to fight jihadist terrorists - is also a backer of Iran, the world's leading state sponsor of terrorism, and Israeli leaders hope they can persuade the Russians to use their leverage with Iran to curb Tehran's increasingly aggressive designs in the region.
On the diplomatic front, Netanyahu will look to Russia as a way to offset a hostile White House's recent veiled threats to not use its veto in the Security Council, as well as increased pressure from Europe to impose a two-state solution over the heads of the Israeli government.
The growing Israeli-Russian alliance also illustrates Moscow's rising influence in the Middle East, as US President Barack Obama has pulled back America's presence and influence in the region considerably.