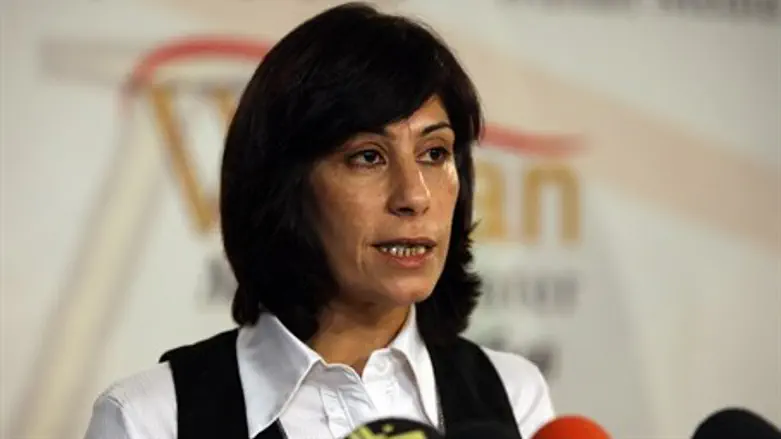 PFLP MP Khalida Jarrar
Issam Rimawi/Flash 90
Israel is set to release Palestinian lawmaker Khalida Jarrar, who has been in prison since August, Palestinian and Israeli sources said Thursday, according to AFP.
Khalida Jarrar will be set free at the Jubara checkpoint near Tulkarem on Friday morning, the Israel Prison Service and Palestinian Prisoners Club told the news agency.
Jarrar, a senior member of the Popular Front for the Liberation of Palestine (PFLP) terrorist organization, was sentenced to 15 months in prison last December for planning an abduction of Israelis in an attempt to use them to free jailed terrorists.
She had been arrested in April of last year on a series of charges, including encouraging terrorist attacks against Israel and violating a travel ban, and in June a judge nixed her possibility of release after incriminating testimony was submitted.
Jarrar was accused of 12 security crimes, including inciting to abduct IDF soldiers so as to negotiate the release of jailed Arab terrorists. Among the terrorists she sought to free was Ahmad Sa'adat, the leader of PFLP who was sentenced to 30 years in jail in 2008 for heading the terrorist group.
Sa'adat was accused of planning the 2001 assassination of Tourism Minister Rehavam Ze'evi, which was committed by four PFLP terrorists in Jerusalem.
The prison service spokesman said she was being released a month early as part of an "administrative release," which can take place when prisons are filled beyond capacity.
At the time of her arrest the Israeli army said Jarrar posed "substantial security risks".
Jarrar is a member of the Palestinian parliament which has not met since 2007 after elections a year earlier were won by the Islamist movement Hamas.
After Jarrar's release, six Palestinian lawmakers will remain imprisoned by Israel, according to the Palestinian Prisoners Club.
AFP contributed to this report.