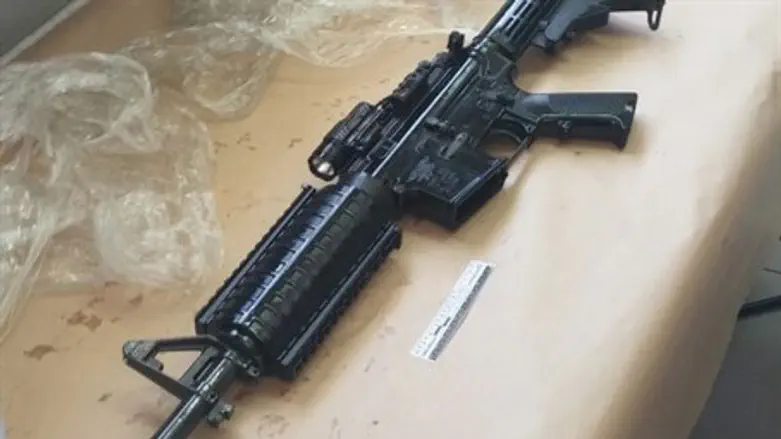 Seized M-16
Police spokesperson
Border Police officers located a semi-automatic M-16 assault rifle on Monday in a home in the Arab Israeli village of Ain al-Sahla in the Wadi Ara region in the north.
Making the finding of the M-16 all the more unusual was that the lethal weapon was inscribed with the logo of the US Navy SEALs, though the insignia appears likely to have been faked.
Adding another troubling aspect to the find is the fact that Wadi Ara was the hometown of the terrorist Nashat Milhem, who murdered three victims with an automatic weapon in Tel Aviv in early January.
Milhem fled home to Wadi Ara after launching his shooting spree. There he was hidden and given aid by numerous accomplices before finally being tracked down and killed in a gunfight with security forces. A full 20 suspected accomplices were located by police.
Monday's find came based on intelligence information received by the police.
The owner of the home where the gun was found, an Arab aged in his 20s, was arrested for investigation.
"This activity joins a long list of activities taken by the Israel police every day with a goal of reducing the phenomenon of possessing illegal weapons and using them for criminal purposes," said the commander of the unit that seized the gun.
"We understand today that one of the most serious ramifications of the use of weapons by criminal sources is the harm to the lives of innocent and uninvolved civilians."
Navy SEAL insignia on the weapon
Police spokesperson