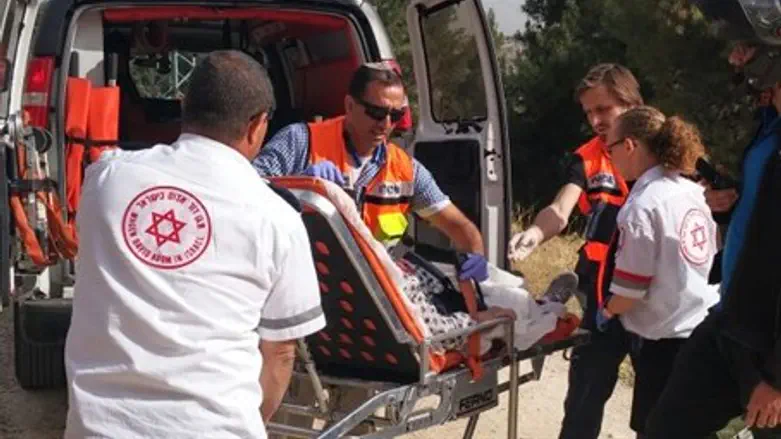 Medics evacuate elderly woman injured in the attack
Courtesy
Three Arab terrorists who stabbed a group of elderly women in Jerusalem earlier this month have been arrested, it was cleared for publication Monday morning.
The horrific attack in Armon Hanatziv on March 10, left two women in their 80s moderately wounded.
It began when a group of five elderly women on a morning walk noticed two Arab teens sitting on a bench. As the group passed the terrorists pounced on them, viciously stabbing the defenseless pensioners repeatedly, before leaving two victims for dead and fleeing the scene.
Security forces initiated a massive manhunt and detained two suspects shortly afterwards, but released them later that day after it was ascertained that they were not involved in the attack.
The perpetrators were finally caught a week and a half later, following intensive police and intelligence work.
The terrorists, aged 16-17, hail from the Arab neighborhood of Jabel Mukabar, a hotbed of Islamist and Arab extremism. They confessed under interrogation to having planned to go out and kill Jews, and even discussed their plans during school time over social media.
It was further revealed that the mother of one of the suspects was arrested a week ago by Judea and Samaria police, after attempting to carry out a stabbing attack herself.
The trio told investigators that they had met on the morning of the attack at a local grocery store in Jabel Mukabar, and then headed towards the nearby Peace Forest. Two of them were carrying a knife and an ax respectively, and waited at the scene for Jewish victims. 
The third suspect did not join in the attack, having had a change of heart due to fears Israeli authorities would demolish his home.
After the vicious attack, the two attackers split up - one running straight home and the other heading back to his school. They discarded their weapons in a hidden spot as they fled, and one of them later returned to collect them so as to remove any incriminating evidence.
They also confessed to deciding to carry out a second similar attack - which they again planned over the Facebook and Whatsapp instant messengers - following the "success" of their first one. However, they were arrested before being able to carry out their second plan.
A gag order was lifted Monday over the arrests, as all three are set to be indicted in Jerusalem District Court.